Microsoft mobile marketplace ads worm into iPhone
No holds barred
---
Microsoft is clear about the applications it will ban from its upcoming download marketplace for Windows mobile phones.
Verboten apps include alternative marketplaces and promotion of, or links to, rivals for the sale or download of software, games and other content already available through Windows Marketplace for Mobile.
Microsoft seems to have fewer scruples when it comes to seeding its own message on enemy soil - adverts for Microsoft's Windows Marketplace for Mobile have started to appear on iPhone applications, according to reports.
1800PocketPC.com has captured a Tweet from a user highlighting the existence of the ads, with the timeless question: "Why do i get "Windows Marketplace for mobile" ads on an iPhone Twitter client?". 1800PocketPC.com claimed to have grabbed a screen shot, below, which invites iPhone developers to submit applications to the Windows marketplace.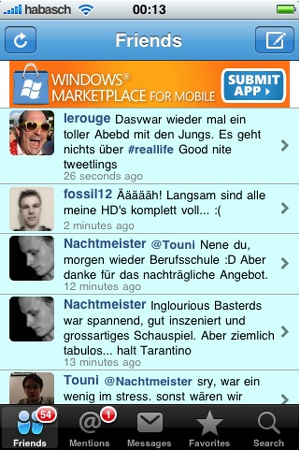 In your face Apple: Microsoft infiltrates iPhone apps?
Apple's policy on accepting iPhone applications is unclear, and its judgment at times seems arbitrary, even random. Microsoft, meanwhile, is actively gunning for iPhone developer recruits to its marketplace, which is now open for submissions ahead of next month's launch.
It may be time for Apple to undertake a wholesale review of what's slipping into its phones - unless, or course, it's one-hundred-per cent confident that iPhone developers won't cross over. ®