As an external hard drive, you've got three options when it comes to hooking it up to your PC. The simplest is USB, but if you want to access the drive from multiple machines then wired or wireless networking is the better option. As the network port tops out at 100Mb/s, though, USB is by far the fastest.

The power LED isn't distracting
We tested the performance of the drive using three sets of files that all add up to 1GB to see how it handled not only large files but also lots of small ones. The first set was a single 1GB file, the second was 1024 1024KB files and the third set consisted of 8192 128KB files.
Using the USB connection, copying the single 1GB file took 55 seconds, 1024 files took one minute 28 seconds, and 8192 files took two minutes 16 seconds. Reading the same files from the drive took 38 seconds, one minute 15 seconds and one minute 30 seconds, respectively.
Connecting the drive to a PC through a Gigabit Ethernet hub saw the performance drop drastically. Copying the 1GB file took nine minutes 25 seconds, 1024 files took 36 minutes 12 seconds and the 8192 files hadn't completed in an hour with Windows' initial estimation at over three hours. Reading the files back took 11 minutes 21 seconds and 25 minutes 18 seconds for the first two sets, respectively. Again, the 8192 files hadn't completed in an hour and Windows' initial estimate was over five hours.
Switching over to 802.11b/g Wi-Fi saw transfer speeds drop further still. Copying the 1GB file took 14 minutes 24 seconds, 1024 files took 43 minutes 38 seconds and the 8192 file set didn't complete in over an hour, with Windows guestimating it would take at least four. Reading the files back from the drive took 22 minutes 21 seconds for the 1GB files and 27 minutes 20 seconds for the 1024 set. The set of 8192 files failed to transfer in under an hour and this time Windows reckoned it would take over ten hours to complete the job.
File Transfer Results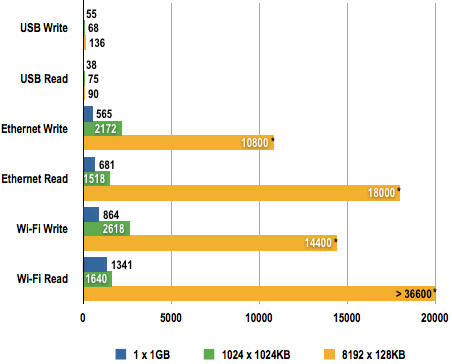 Time in Seconds (s)
Shorter bars are better
* Windows' estimate
We also ran CrystalDiskMark using the three connections and for USB it achieved a speed of 32.47MB/s for a 50MB sequential read, 22.83MB/s for random 512KB reads and 0.57MB/s for 4KB random reads. Write speeds were 27.32MB/s, 27.14MB/s and 1.80MB/s, respectively.
Sponsored: Webcast: Ransomware has gone nuclear