Volkswagen unveils Yorkshire-friendly e-car
Eh-oop, it's the E-Up!
---
Leccy Tech Volkswagen has whipped the dust sheet from a "close to production" concept car, described by the firm as its "Beetle for the 21st Century".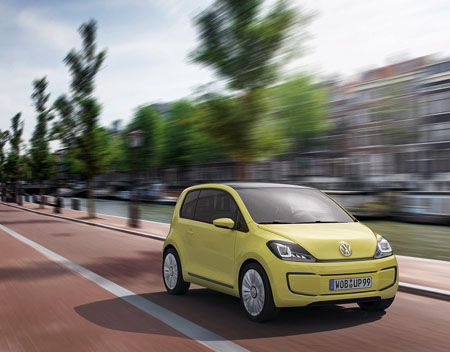 VW's E-Up! will be used as a design basis for its upcoming e-cars
Called E-Up! – making it a popular car for Yorkshire residents — the three-door hatchback apparently has a '3 plus 1' seating arrangement. The car's front passenger seat is mounted roughly 50mm ahead of the driver's, apparently making the rear passenger seat the 'plus 1' bit.
Primarily aimed at urban drivers, E-Up! has been designed to help Volkswagen envisage where its e-car line-up is heading. So it's unlikely that you'll ever see an exact E-Up! replica ever cruising down the A1 – but e-cars based on E-Up! certainly will, VW said.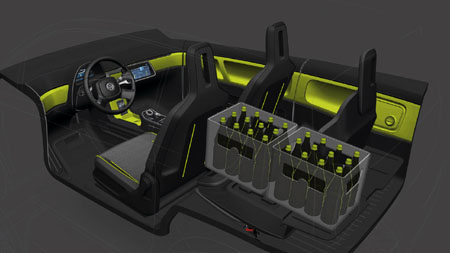 E-Up's weird '3 plus 1' seating layout
E-Up's! drive train consists of a 60kW/210Nm (80bhp/155lb-ft) electric motor connected to the front wheels, while a 240kg, 18kWh air-cooled lithium-ion battery pack rests beneath the vehicle's floor.
E-Up! has a top speed of 85mph and can reach 0-62mph in 11.3 seconds. VW pointed out that while driving through urban environments a 0-30mph sprint should take about 3.5 seconds.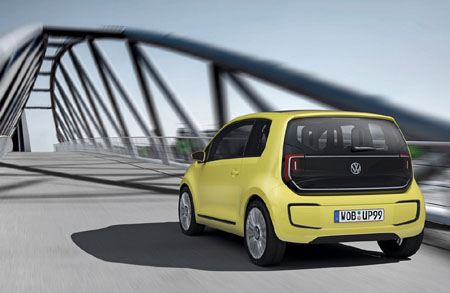 E-Up! should make 0-62mph in 11.3 seconds
Assuming a gentle right foot, the car's fully-charged battery pack should be good for around 80 miles of motoring, VW claimed.
Measuring 3.2m long, 1.6m wide and 1.5m high - while weighing only 1085kg (2392lbs), including the battery pack – means E-Up! shouldn't be a problem to navigate around supermarket car parks.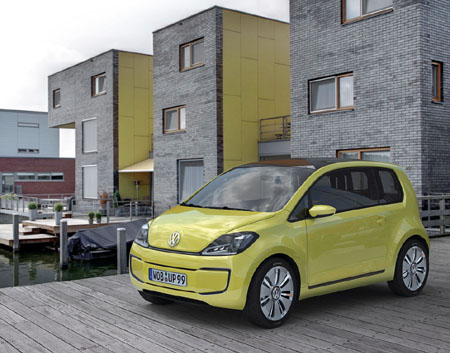 E-Up! style cars will go into production during 2013
An e-car very similar to the E-Up! will go into limited production during 2013, VW has promised. ®