This article is more than 1 year old
Opera Mini gets facelift, sprouts tabs
Small app, big ambitions
Opera is bringing multipage browsing to its popular Mini browser, with a beta rolling out today. Mini 5.0 also gets a slick visual makeover, and touch support on devices that accept touch input.
Underneath it's the familiar Opera 4 Mini engine with a few tweaks, and existing users will be relieved that key shortcuts have been retained. But the proliferating screens of settings, bookmarks etc are now accessible by a pulldown menu. The address bar and search bar are integrated into the page view, almost exactly in the manner of iPhone Safari. Usually the ideas in the browser flow the other way.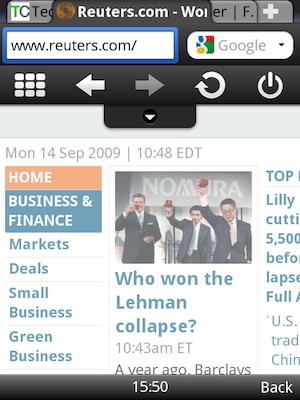 Menu makes this bar appear [click to enlarge]
Speaking of which, Opera Mini gets its desktop browser's Speed Dial, an Opera innovation purloined by Apple for Safari 4.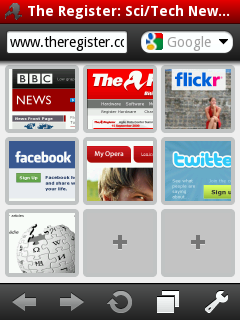 Mini now has a Speed Dial, with thumbnails
I spent a some time with a pre-beta, and the new UI succeeds in allowing you to switch tabs easily (a keystroke would be even more welcome); you can switch tabs with a <bold>*</bold> + left and right key sequence. It also makes it easier for newbies to find the History, Bookmarks and Settings. The rest seems reassuringly familiar.
One feature request I made is for a "Send to" option on a page, so you can email or sms a link. This is harder with Mini, Opera told me, because Opera can't control the underlying platform, unlike Apple, Nokia or Google, and so can't make assumptions about what email client might be installed.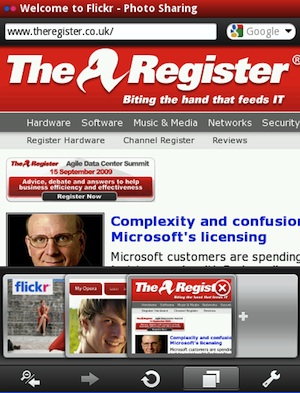 On touchscreen phones, you can swipe to navigate visual thumbnails
;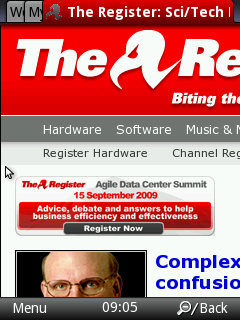 Or on regular phones, the tab bar is at the top.
Opera Mini is one of the best arguments for choosing a feature phone, rather than one of the more expensive alternatives; it provides the assurance that via Opera Mini, and Opera's caching proxy, you're not really weren't missing out on the mobile web.
Opera Mini 5 should close that gap even further. It's a mere 220kb download. ®