Second Life slapped with counterfeit sex toy suit
Sadville v Stroker Serpentine
A pair of Second Life entrepreneurs are suing the game's creator, Linden Lab, for allowing other players to sell "knockoffs" of their virtual sex organs, erotic poses, designer clothing, and other trademarked items.
Kevin Alderman (known in Second Life as "Stroker Serpentine") alleges that Linden facilitates and profits from in-game pirates copying his IP-protected line of adult-themed virtual goods. Alderman claims his SexGen branded items and animations are among the most popular virtual products sold within Second Life, making his US trademark a valuable resource to distinguish himself amongst competitors selling alternative methods of bumping ugly online.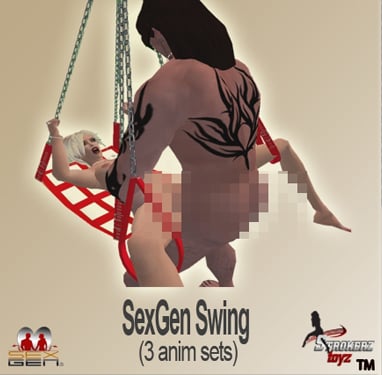 Censored for your sanity
Joining Alderman in the lawsuit is Shannon Grei (known in-world as "Munchflower Zaius"), who designs and sells clothing and coverings for players to wear within Second Life. Grei holds a US copyright for the visual material "Nomine Araignee Set," which she claims has been copied and peddled by other players.
The two have filed for class action status in their complaint, claiming many others have been violated by Linden's lax attitude regarding counterfeited virtual goods, but often lack the financial resources to prosecute.
The lawsuit asserts that Linden has violated their intellectual property rights by displaying copyrighted and trademarked works within Second Life and by "materially contributing to and supervising" the infringement of others. It further alleges that Linden directly profits from IP-infringing conduct by running the online marketplace used to sell the counterfeited virtual products, selling in-game space to infringers and operating the official currency exchange, which allows users to transfer Linden Dollars for US currency — for a fee of 3.5% per transaction.
"This is not a hands-off approach that Linden Lab takes," said the plaintiff's attorney Michael Aschenbrener of the firm KamberEdelson. The attorney told El Reg that Alderman's SexGen business generates big money — about $1 million in revenue thus far (and in tangible US currency, not virtual dollars).
"Eros's virtual erotic SexGen products sold for use in Second Life have been counterfeited, cloned, and ripped off countless times by a multitude of Second Life Residents," the lawsuit states. "The manner in which this has occurred is akin to the knockoff handbags and purses sold near Canal Street in New York City. Some of the bags are stolen, but actual brand-name handbags sold at deep discounts, while many others are knockoffs that merely use the brand-name makers' designs and trademarks. The same is true of the knockoff SexGen products sold within Second Life. In either case, Linden Lab and merchants in Second Life are infringing Eros's registered trademark."
The lawsuit argues that Linden is not protected by the the US Digital Millennium Copyright Act's safe harbor provisions for service providers because it refuses to take the necessary steps to truly remove the content and for making money off the infringing behavior.
According to the complaint, while Linden will ban users caught using third-party programs used to copy game assets, it won't ban users who upload or sell the copied content. It alleges that takedown notices on infringing items are either ignored Linden or easily avoided by content pirates through simply creating a new free account and re-uploading the content.
"Linden Lab has the technical means to simply and easily halt the alleged conduct, but refuses to do so because it makes too much money from all the infringement," it argues.
Linden is accused of trademark infringement for using the SexGen mark to sell counterfeit products through the in-game marketplace and by its official XStreetSL.com online marketplace. The lawsuit claims Linden advertises infringing items on its "featured items" selection and by top search results for "SexGen." The company is also accused of contributory trademark infringement because it supplied the infringing service — the Second Life game itself and online marketplace — used by counterfeiters.
Linden is further accused of copyright infringement for showing images of counterfeited clothing and skins lifted from Grei within Second Life and on XStreetSL.com.
The oddity of blaming Second Life for infringement when there would be no items in the first place if it weren't for the game doesn't trouble Aschenbrener.
"The classic analogy is a flea market operator that allows individuals to sell infringing goods within the market — and that's not allowed," he said.
Second Life erotic mogul Alderman has previously filed civil lawsuit against specific fellow players for allegedly copying his SexGen products. He was awarded a default judgement in the first case when the defendant didn't respond to his complaint and penned an in-court settlement for his second (although awarded no money).
The class-action request was filed Tuesday in US District Court in the northern district of California. A copy is available The class-action request was filed Tuesday in US District Court in the northern district of California. A copy is available here (PDF). ®