This article is more than 1 year old
MS launches 250GB Xbox 360
Two special editions
Microsoft has launched its most capacious Xbox 360 yet – a 250GB console.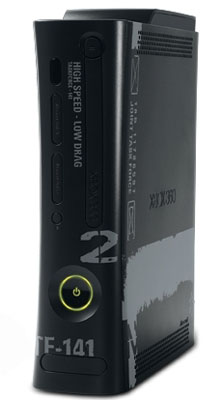 Microsoft's 250GB Modern Warfare 2 Xbox 360
Following Microsoft's recent rearrangement of the Xbox 360 line-up, which saw it kill off the mid-range 60GB Pro, the software giant has launched two special-edition models with clip-on 250GB HDDs.
The Forza Motorsport 3 Super Elite Bundle will ship with a copy of the game, two headsets and two wireless controllers.
If you aren't into driving games, Microsoft's other 250GB Xbox 360 focuses on upcoming first-person shooter Modern Warfare 2. The cool thing about this bundle is that the Xbox itself has been sprayed grey and etched with various game branding.
The bundle includes a copy of the game, two wireless controllers and one headset.
Microsoft has priced the Forza Motorsport 3 Super Elite bundle up at £249 ($411/€279) and promised to launch it 23 October.
The Modern Warfare 2 bundle will be sold through retailer Game in the UK, we just don't yet know when or for how much.
A standalone 250GB HDD won't be released for the Xbox 360, Microsoft confirmed. ®