Leccy Tech Back in May Register Hardware reported that Audi was rumoured to be working on a leccy version of its R8 supercar. Now Audi's confirmed that the rumours were true.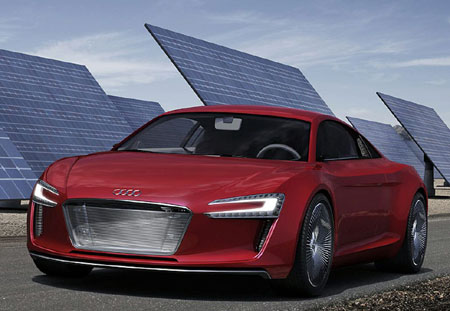 Audi's e-tron: an electric version of the R8
At the ongoing Frankfurt Motor Show, Audi recently unveiled e-tron - which is powered by four electric motors that generate 230kW (313bhp) of power for the car's Quattro variable four-wheel drive system.
The combined torque of those four motors? 4500Nm (3319lb/ft), Audi said.
The net result of all that oomph is a 0-62mph time of 4.8 seconds and limited top speed of 125mph, Audi added.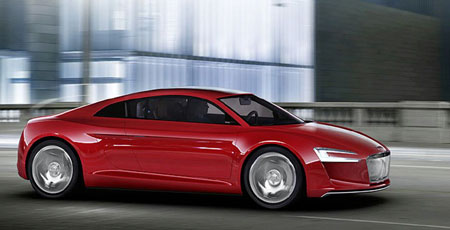 E-tron has a 155 mile range
Power comes from a 53kWh lithium-ion battery pack that the firm said should give the car a range of roughly 155 miles.
E-tron's battery pack and associated electronic systems weigh roughly 470kg (1036lbs) and sit ahead of the rear axle. The entire vehicle weighs in at 1600kg (3527lbs), Audi added.
Audi has mounted e-tron's rear electric motors just behind the rear axle and its front motors directly over the front axle, resulting in a 42:58 weight distribution – the same as on a Lamborghini Murcielago LP640.
Sadly, Audi is currently telling anyone with - presumably - very deep pockets that e-tron is currently just a concept. Apparently one designed to give it a greater understanding of battery and electric motor systems.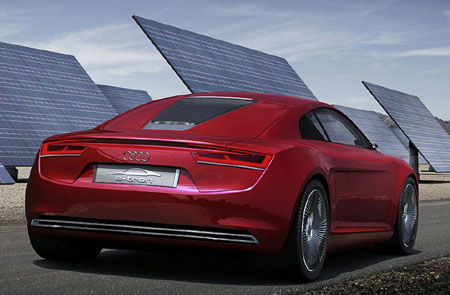 Audi hasn't planned for e-tron production
But it's worth remembering that six months ago Audi denied that the e-tron project even existed. And since the R8's mainly hand built in Audi's German factory, it's reasonable to assume that creation of a nearby e-tron production line wouldn't be too difficult. ®
Sponsored: Webcast: Ransomware has gone nuclear