When hosting a business conference call, there are two easy options for keeping participants interested and alert:
a) making sure the conversation is compelling and informative; or
b) make farting noises at opportune moments.
While tried and true, option b comes with certain drawbacks. For one, the effort could get a gentleman sued by International Business Machines one day, should the method of inserting said flatulence be mechanical.
You see, the folks at TechDirt have uncovered a rather compelling patent application from Big Blue that claims invention of delivering canned sounds over the telephone.
The patent describes a device for "enlivening conference calls" by injecting novelty recorded sounds should the conversation fall into an awkward pause or silent boredom.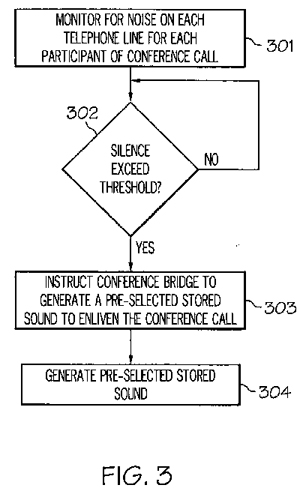 "I'm sorry, John was in a terrible accident last night."
"Oh my god..."
...
WOOP WOOP WAKKA WAKKA!!!
The device would use noise detectors to monitor phone lines for pre-determined periods of silence to play audio gags properly on cue. It could also make sounds at the request of participants, or even based on a certain noises associated with a selected individual.
"Depending on the context of the conference call, the participants of the conference call may experience boredom," the application warns. "As a result, the conference call may exhibit a considerable amount of silence or 'dead air' due to the lack of interest from participants. If interjections (e.g., laugh, cheers, or jingles), and the like, could be made during the conference call at times of boredom, the conference call may be enlivened and more interesting for the participants."
The patent application is credited to inventors Travis Grigsby, Steven Michael Miller, and Lisa Anne Seacat, on behalf of IBM. Alas, we were unable to reach the authors to see if the markedly sober company has ever put such a device into practice. (Although this journalist can testify, having been subjected to many-a IBM teleconference call, never once experiencing any effort from the Big Blue to arouse me from the inevitable conversational coma.)
Of course, most technologies described in the patent have been in wide use for decades (laugh tracks, for example). But the supposition that it's used for teleconferences in particular could theoretically give the application a pass. However, the filing notes it seeks "to cover such alternatives, modifications, and equivalents, as can be reasonably included within the spirit and scope of the invention" as defined by the claims.
And now we reach the potentially awkward moment of trying to wind down the story…
yes…well…
We probably could use a good sound effect right about now. ®