Leccy Tech Mission Motorcycles has set a land speed record for an electric motorbike.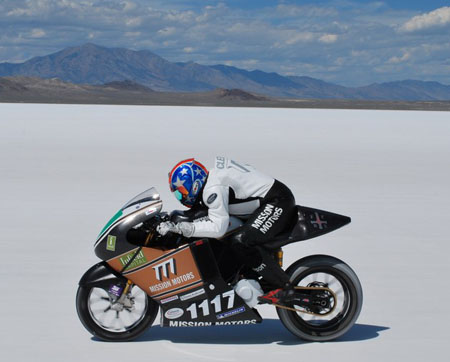 The Mission One bike hit a 150.059mph average over two one-mile runs
With test rider Jeremy Cleland in the saddle, the Mission One bike achieved an American Motorcyclist Association certified 150.059mph average over two one-mile runs across the Bonneville Salt Flats in Utah, North America.
The highest speed recorded by the half-faired bike during the build-up to the timed runs was 161mph.
To be honest, there wasn't actually a previous land speed record in the same category for a sub-300kg (661lbs) machine - but the achievement is still pretty impressive.
The absolute speed record for a leccy bike is 176mph - set earlier this year on a machine built by streamlining guru Mike Corbin.
But his bike was streamlined and didn't do the two one-mile runs that Mission's bike did.
Mission - which scored fourth place in the recent Isle of Man-based e-bike TTxGP - were at pains to point out that the record creating bike wasn't a specially built one-off.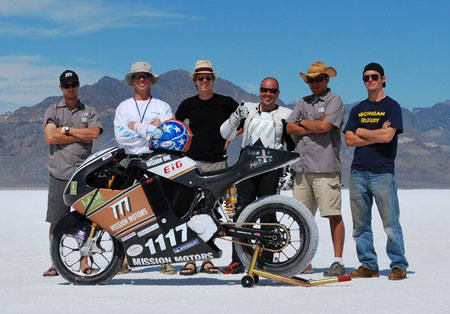 Mission One bikes will be shipped to customers in 2010
It, essentially, is the same Mission One machine that will be delivered to customers from early next year.
For customers, the Mission One will have a top speed of 150mph and be capable of travelling up to 150 miles on a single charge. ®