Review Following on from the original Solid SGH-M110 and the recent B2700 Bound, the GT-B2100 Solid Extreme is the latest in a line of Samsung handsets that show themselves as well 'ard. While designed for harsh outdoor conditions, the Solid Extreme nevertheless touts features we typically expect to find on phones these days, namely a music player, FM radio and a camera.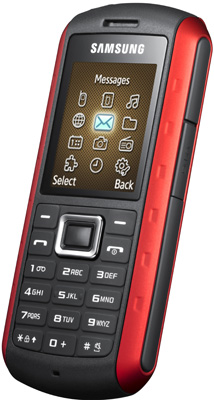 Tough call: Samsung's GT-B2100 Solid Extreme
However, this model lacks the higher-speed 3G multimedia capabilities of the Bound and misses out on its compass, altimeter and pedometer gimmickry. Its camera is also an entry-level 1.3Mp shooter, so you won't be getting scintillating shots of the great outdoors either.
Where the Solid Extreme does flex its biceps is in its sheer ruggedness – its raison d'être. Complying with the IEC IP57 standard, the Solid Extreme can take more than the bit of the water-splashing that's covered by its stablemates' IP54 accreditation. The IP57 'ingress protection' standard means the Solid Extreme is waterproof, rather than just 'water-resistant'.
The GT-B2100 can be submerged to a depth of 1 metre for 30 minutes without becoming a damp squib – a level of sealing that also delivers dust- and sand-resistance too. A further beefing up of this Solid's tough-guy image is reflected in its compliance with US military standard MIL-STD-810F. So if you want to make a call in environments of blowing rain, shock, salt fog, humidity, solar radiation, vibration and extreme temperature the phone will be fine even if you're not, assuming a decent signal, of course.
As with most ruggedised handsets, its not built for looks and slinkiness. Measuring up at 113x49x17.1mm and weighing 103g, it's reasonably compact for the protection it offers. The 1.8in 128x160 screen is small and rather basic. While OK for the essentials – and unlikely to be a huge issue when using it up a mountain or on a canoe – the low-resolution array isn't that great for day-to-day use.

A single covered socket handles sync and sound services
The Samsung Solid Extreme feels good to handle, its rubber-feel bodywork grippy enough to give firm purchase for water-soaked or freezing cold hands. The numberpad isn't absolutely glove-friendly – it's passable with light gloves, but not that useful with thick snowboarding ones. The central navigation navpad stands just about proud enough from the fascia to allow smooth thumb manoeuvring, although, while perfectly serviceable, the rubber-feel action of the sealed numberpad will be a touch stodgy for fast texters.