Review Packard Bell may not a name you immediately associate with the latest word in netbooks, but now that it's part of Acer, all that may be about to change. Acer has big plans for the Packard Bell brand: it intends to develop PB into the very acme of trendy tech desirability. Apparently.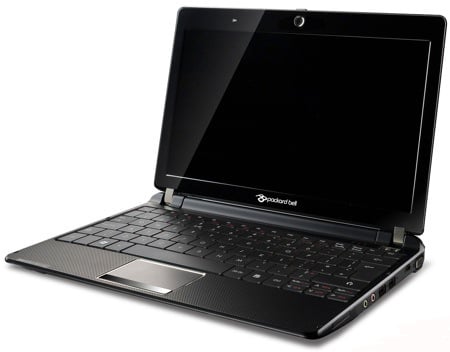 Packard Bell's dot m/a: rarely, a netbook based on AMD chippery
PB's netbook range will eventually include three machines: the 10.1in dot s, which uses the Atom N280 chip and Windows XP; the Atom Z520-powered, Vista-running 11.6in dot m; and the dot m/a, which is a little out of the ordinary because it's a netbook powered by an AMD processor.
To be exact, it uses a 1.2GHz Athlon L110 with an 800MHz HyperTransport bus and 512KB of L2 cache. Graphics come courtesy of the AMD ATI Radeon Xpress X1270 graphics core built into AMD's 690G chipset. You also get 2GB of DDR 2 memory as standard and Vista Home Premium.
Despite housing an 11.6in screen, the dot m/a is still a reasonably compact and sleek affair, measuring 288 x 199 x 25.4mm and weighing 1.25kg with the standard three-cell battery pack or 1.38kg with a six-cell unit. Those dimensions are the same as Acer's Aspire One 751 for a good reason: the two machines share the same chassis and case.
The m/a is a rather more stylish looking box of tricks than the 751. The shiny chrome logo on the lid isn't just for show – the lid and body of the m/a fit together very snugly and just about the only way to separate them is to wedge a finger under the lip of the badge, which juts out by a few millimetres. The dimpled keyboard surround, while not fulfilling any useful function that we can think of, is pleasing to the eye and to the touch.

The red model should show off fingerprints less well than the black one
A word to the house proud: our piano black version proved to be a real fingerprint magnet, so the red version may be the one to go for. To help keep things spick and span, Packard Bell supplies a rather fine padded carrying pouch complete with a velcro fastener - something all netbook makers should do.
Similar topics