Seagate is launching the first 6Gbit/s 2TB drive, the Barracuda XT, and altering the Barracuda naming convention at the same time.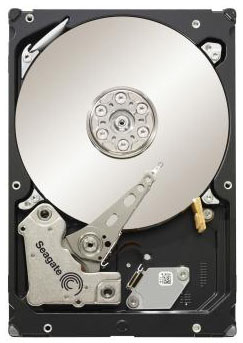 Seagate's Barracuda XT features a 2TB capacity
Instead of the 'Barracuda 7200.11' and '7200.12', with the suffix signifying the 11th and 12th generations of a drive spinning at 7200rpm, the new drives will be the mainstream 'Barracuda 7200', the low-power 'Barracuda LP', and the extreme performance 'Barracuda XT'.
The new Barracudas have four 500GB platters, a 64MB cache, and spin at 7200rpm. Average latency is 4.16msec; maximum sustained data rate is 138MB/sec, and maximum transfer rate 600MB/sec. Quoted mean time between failures is 750,000 hours.
The XT is for gamers and multimedia creators using high-end workstations who need fast performance from an external drive with a doubled interface speed. Seagate cites early test results showing "performance improvements of 47 per cent over standard Barracuda drives in non-linear video editing".
It could be used for low-end servers with up to four drives but, apparently, its rotational and linear vibration characteristics make it unsuitable for enterprise use. David Burks, Seagate's product marketing director, said enterprise users with a similar need for high performance should find it satisfied in November with a 6Gbit/s SAS Constellation drive.
Another area where the new Barracudas could could be used is as a higher-performance external filestore via an eSATA or FireWire 800 link.
Seagate publicly demonstrated a 6Gbit/s SATA interface in March. The thinking then was that mainstream applications will need the doubled SATA and SAS data rate in 2011/2012 and the interface needs introducing two years before then so that the general ecosystem has the time to update the system stack components that will use it.
We will need 6gig SATA controllers on motherboards and O/S drivers for them, for example.
The company expects cache-efficient and intensive applications will see the initial benefit of 6gig SATA. Mainstream applications will see it as "application optimisation, controller, driver and O/S optimisation, and areal density and other pending HDD technology will combine to push performance higher over the next 2-3 years."
Seagate says the drive interface controller is auto-sensing and backwards-compatible, working with hosts using the existing SATA II 3Gbit/s and the previous SATA I 1.5Gbit/s interface. The company expects eSATA (external SATA) to increase speed to six gig soon enough too.
Users can short-stroke the drive or make other changes using the company's SeaTools utility.
The Seagate recommended price is $299, and the drive ships to distribution today.
The warranty is five years. We don't know if this presages a general return to a five year warranty period from the three year term used for bare drives now. It will be good if it does. ®