This article is more than 1 year old
Dell to punt Moblin for Mini 10v netbooks
Ubuntu gets new front end
Dell will tomorrow begin offering its Inspiron Mini 10v netbook with Moblin, the Intel-favoured version of Linux that was developed for mobile devices.
Well, sort of. What Dell will actually be offering is Ubuntu Moblin Remix, a version of Ubuntu 9.04 with the Moblin 2.0 user interface sitting on top. Ubuntu developer Canonical has also bundled in Mobiln's key UI and application foundation layers.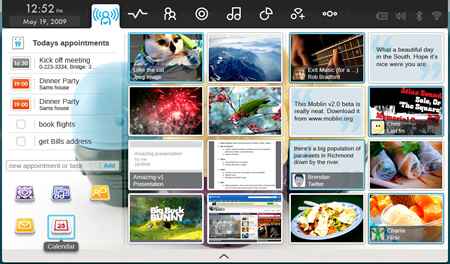 Moblin 2.0: coming to Dell's netbook
Neither Dell nor Canonical think UMR is ready for everyone, so they're pitching the version that'll be made available tomorrow as a "developer release" to scare off the unwary, though they admit that the release is targeted at "early adopters" and "Linux enthusiasts", so it's not for coders only.
Dell will also post UMR as a downloadable image that can be booted and installed off a USB Flash drive. It's only supporting the 10v, warning that while UMR may run on other Dell machines, not all of their hardware component may be supported.
Moblin is designed for netbooks and handheld internet devices. It has been created primarily as an information access and presentation system rather than as yet another desktop-style OS, so it's not surprising that Canonical is pitching it as a "Remix" like its own Ubuntu Netbook Remix.
Prices will kick off at $299 for a 10v with UMR installed on its 8GB SSD. ®