This article is more than 1 year old
Fisker wins big US govt e-car loan
$528m for range-extended hybrid development
Leccy Tech Fisker Automotive has won a $528m (£324m/€358m) US government loan, designed to help the firm launch an affordable range-extended hybrid car by 2012.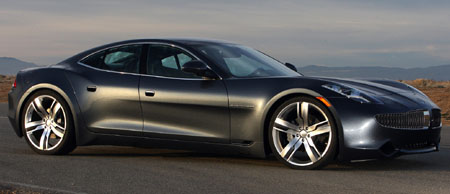 Fisker's Karma (above) will launch next year, but Nina won't be out until 2012
Called Nina, the new small-size Fisker will use the same Q-Drive range extended hybrid drive system as the one found in firm's Karma and Sunset models – which are both due to launch in 2010.
While the Karma will start at $87,500 (£53,700/€59,300), Nina will be priced at an altogether more affordable $39,000 (£23,900/€26,400) – which includes the US government's $7500 tax credit.
Nina will cost roughly $10,000 less than Tesla is expected to ask for its Model S - also expected to launch in 2012. Fisker hopes to sell between 75,000 and 100,000 Ninas each year.
Fisker hasn't released any images of Nina, but has claimed that the vehicle will feature cutting edge technology, radical styling and world-class quality. The car's name was inspired by the Niña nickname of Christopher Columbus' ship - the Santa Clara.
The US Department of Energy said the loan will "create and save" at least 5000 jobs in the US auto industry, while also indirectly creating thousands more.
One reason for this is that, unlike the Karma - which will undergo final assembly at a factory in Finland, Nina will be a true 'Made in the USA' model.
Fisker's funds will come from the same US government pot that provided Tesla with a $465m (£285/€315m) loan for its Model S e-car. ®