This article is more than 1 year old
Intel pays crafty homage to netbook pioneer Psion
Updated Lawsuit-launching mini-laptop appears among cool kit
IDF Never say Intel executives aren't cheeky so-and-sos. On a slide all-too-briefly shown during his 'What is Cool' presentation, Intel Executive VP Dadi Perlmutter showed a selection of netbooks including the... er.... Psion Teklogix Netbook.
This machine was launched in the late 1990s. Production of the machine ended in 2003, though Psion maintains it still sells the thing, racking up revenues of $13,650 as of March this year, down from a peak of just over $2m in 2006.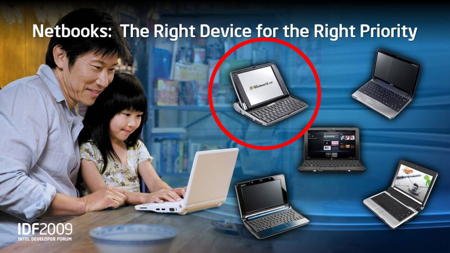 That Perlmutter slide in full
Register Readers will recall this is the device over which Psion attempted to sue the chip giant for claiming the term 'netbook' was generic rather than, as Psion maintained, a trademark.
Psion countersued Intel after the chip giant asked the US court in February 2009 to invalidate Psion's trademark. Intel's complaint came in response to threats from Psion demanding it stop using 'netbook' generically.
The two combatants - as is usually the case in these fights - reached an agreement in May before they had their day in court, and now Intel can use 'netbook' generically.
Psion said at the time it "will voluntarily withdraw all of its trademark registrations for 'Netbook'". It also agreed to "waive all its rights against third-parties in respect of past, current or future use of the 'Netbook' term".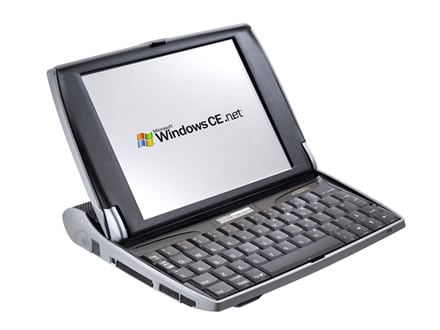 Psion's Teklogix Netbook: according to Intel, one of today's coolest mini-laptops
And how does Intel express its thanks: it lists a defunct mini-laptop among today's hottest netbooks.
Or, of course, one of the chip giant's PowerPoint operatives has dropped something of a clanger... ®