This article is more than 1 year old
First USB 3.0 ExpressCard adaptor spotted
One SuperSpeed port for your old laptop
IDF We're not expecting to see SuperSpeed USB devices shown off in significant numbers until next year, but a few have turned up at Intel Developer Forum.
At the top of the list is Point Grey's 1080p HD webcam that uses the 5Gb/s USB 3.0 bus to stream the 60f/s picture data uncompressed.
Point Grey's camera uses USB 3.0 PCI Express-to-USB 3.0 chippery from semiconductor company Fresco Logic.

Fresco Logic's USB 3.0 ExpressCard: new ports for old
Of course, none of us have USB 3.0-compatible computers, and it may be some time before we get one. Can't wait? Then Fresco Logic also has an ExpressCard 34 add-in with a USB 3.0 port at the business end - and clearly room for a second one.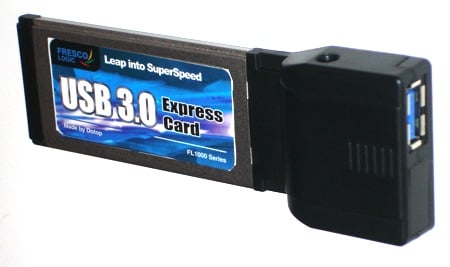 One port for now, room for another
NEC showed off its USB 3.0 host controller, a single-chip offering its was using to bridge an SSD's 3Gb/s Sata connection to USB 3.0. The hardware's not much to look at - and is just test kit, in any case - but the demo saw 500MB of data copy over in just over four seconds using USB 3.0 but almost 40 seconds with USB 2.0 - almost ten times as long.
NEC's chip is the first of its kind to be certified by the USB-SIG under it new device approval process.