This article is more than 1 year old
Intel crams four displays into one PC
Main LCD, plus three touchscreen OLEDs
Intel has upped the ante concerning the number of displays fitted into a laptop, by powering a machine with four separate screens.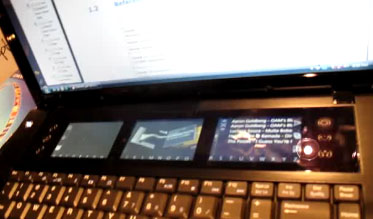 Intel's Tangent Bay concept laptop has three OLED screens
Credit: Crave
Laptops with small secondary screens integrated into the keyboard half aren't uncommon. But the Intel-powered laptop has – in addition to the main LCD display - three small screens built into an area just above the keyboard.
All three screens use OLED technology and support multi-touch, various online reports have stated.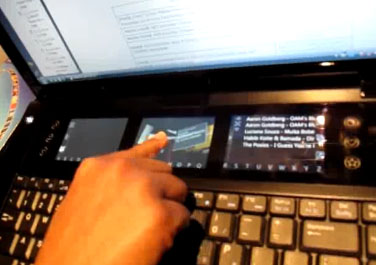 Display videos on one and pictures on the others
It's unknown whether each of the three miniature screens has a designated purpose, but pictures appear to show one being used to control the PC itself and another to display multimedia content.
The Intel-powered PC – codenamed Tangent Bay – is still just a proof of concept, for now. ®