This article is more than 1 year old
Dual-screen Microsoft 'booklet' uncovered
Not a tablet PC or an e-book viewer, apparently
Microsoft is developing a dual-screen tablet, sorry, booklet that could seriously shake the foundations of Apple's rumoured tablet PC and Asus' dual-screen laptop.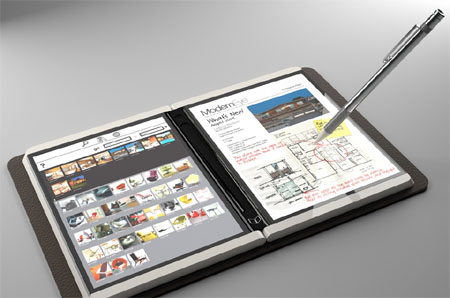 Microsoft Courier's dual screens both look about 7in and are touch and stylus-sensitive
Credit: Gizmodo
Called Courier, the device is currently at the "late prototype" development stage – according to a report by Gizmodo, with Microsoft reportedly still heavily focused on advancement of the device's user experience.
It's thought that Courier's two displays each measure about 7in. A digital spine with iPhone-esque 'Home' button connects the two and also allows items – such as memos or pictures – to be moved between the screens.

No word on HDD/SSD storage or memory card slots
Speaking of pictures, the report added that Courier also has a rear-mounted 3Mp camera. A video of Courier also revealed that a stylus can be used to sketch, well, anything you like onto either screen.
Alternatively, the stylus allows users to write text into Courier's dual displays – which also support iPhone-like multi-touch finger input.
Technical details about Courier's innards haven't come to light, yet. However, images of the device have led to speculation that it may support wireless charging – much like the Palm Touchstone system.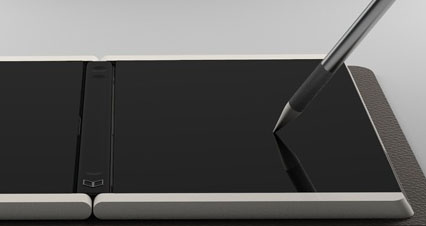 1080p video playback, anyone?
In terms of applications, the Courier video shows the device linking into what looks like Google Maps. Friends in the gadget's address book can then be located on the interactive map - Google Latitude, anyone?
Courier's other features include a digital journal and a 'To Do' section – which also links into the address book.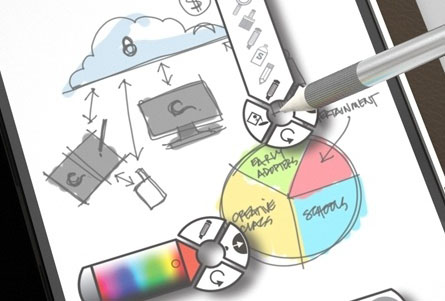 Courier could charge itself wirelessly
Microsoft hasn't officially announced Courier yet, so its potential launch date and price remain a closely guarded secret. ®