This article is more than 1 year old
Sony beefs up slimline PS3
From 120GB to 250GB
Updated Sony has confirmed those recent rumours of an upcoming 250GB slimline PlayStation 3.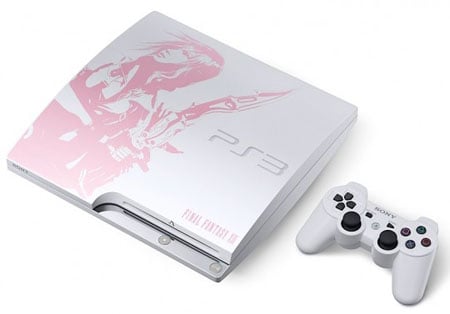 Sony will sell the 250GB slimline PS3 in a bundle with Final Fantasy XIII
The most capacious slimline PS3 yet – Sony's previous PS3 slim sported a 120GB HDD – will be launched alongside the release of upcoming videogame Final Fantasy XIII.
Gamers will be offered the 250GB slimline PS3 slim in a bundle pack. In addition to a copy of the game itself, the "ceramic white" console's top plate will be etched with an image of the title's heroine – Lightning.
Sony's also sprayed the console's Dual Shock 3 wireless controller ceramic white, to match the console.
By announcing plans for a 250GB slimline PS3, Sony has brought the console's capacity inline with that of the Microsoft's Xbox 360 – which has two 250GB limited edition models available.
The bad news for storage-hungry PS3 fans is that, so far, Sony has only confirmed a launch date – 17 December - for the 250GB model in its native Japan.
But since Final Fantasy XIII is set to be released in Blighty on 25 June 2010, it's reasonable to assume that a similar UK launch is also on the cards.
Update
Sony has since confirmed plans to launch three 250GB slimline PS3 bundles into the UK.
From 1 October, the more capacious console will be available with your choice of two Platinum titles or videogame infamous.
Then, from 16 October, an Uncharted 2: Amongst Thieves 250GB slimline PS3 bundle will be launched.
The final bundle pack, set for release on 19 October, will include the 250GB slimline PS3 and Blu-ray versions of films X-Men Origins: Wolverine and Batman: The Dark Knight. A Blu-ray remote control will also be included.
All three bundles will be priced at £285 ($466/€315), Sony said. ®