Archos punts 9-inch Windows 7 tablet PC
Soft keyboard, hard typing
---
Archos, creator of what the company calls "pocket entertainment products," is taking a step beyond mere entertainment with the launch of its Windows-based Archos 9PCtablet.
This 8.9-inch touch screen tablet PC features an on-screen keyboard, is powered by a 1.2GHz Intel Atom Z515, and will have Windows 7 Starter Edition preloaded.
Not coincidentally, the 9PCtablet's release date is the same as Windows 7's: October 22. At the Intel Developer Forum in San Francisco, Archos exec Ron Ferguson gave reporters an advance look-and-feel of the slim, light tablet.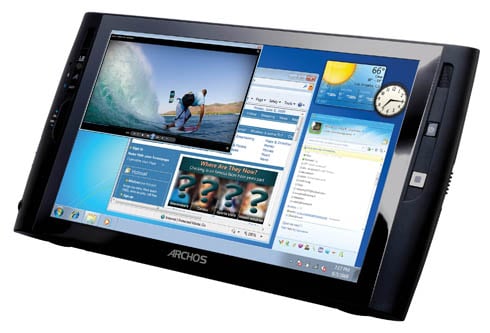 Windows 7, HD video, stereo sound, and Wi-Fi - but no 3G
The fanless 9PCtablet is a full-fledged netbook, but with a display-based keyboard that slips up from the bottom of the display when summoned, minimizing the window above it.
To our hands, typing on the touchscreen keyboard was awkward - although since you can use both hands in a standard typing position it's less awkward than first-time use of, say, the soft keyboard on the ubiquitous iPhone. An Archos rep promised it gets easier over time - we'll wait and see.
And if on-screen typing is too kludgy for your tastes, an external Bluetooth keyboard and trackpad will be an optional accessory.
Ferguson described the 9PCtablet as intended not only for "road warriors", but also for users who "want the flexibility to consume the internet" at home on their couch or in their kitchen - and perhaps to accommodate that latter usage model, the 9PCtablet is available in both black and white.
This $499 "Netbook of the future," as Archos calls it, matches the capabilities of its keyboard-equipped brethren, including 802.11b/g Wi-Fi, 1024-by-600 pixel display, Bluetooth 2.1, USB 2.0, 1GB of DDR2 memory, Realtek ALC269 stereo audio with dual speakers, built-in microphone, optical trackpoint, and an 1.3 megapixel camera for videoconferencing. Unfortunately, there's no SD Card slot or 3G support.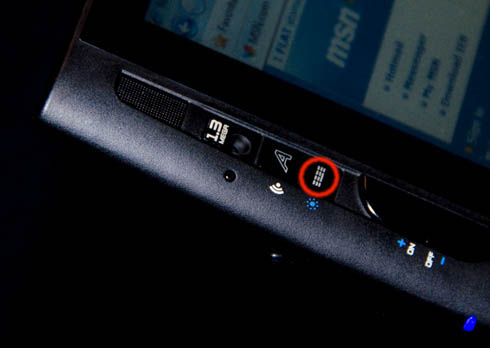 A left-mounted button (circled) slips a soft keyboard onto the display
A VGA port, two additional USB ports, and 10/100BASE-T Ethernet can be added with an optional module. At launch, the 9PCtablet will include a 60GB hard drive, but Ferguson said that a 120GB version is coming "right on its heels."
The 9PCtablet is small and light: 10 by 5.27 by 0.62 inches and a bit over 28 ounces (800 grams). That weight includes the removable battery, which Ferguson claims will provide a "four hours plus" life, even when watching HD video.
As capable as the 9PCtablet may be, it does have its drawbacks. The display, for example, uses resistive technology, not capacitive. As such, it needs to be calibrated for touch accuracy, and is incapable of multi-touch tricks.
Also, although Ferguson said that Archos is contemplating making ebooks available on its Archos Media Club online content-delivery service, the 9PCtablet does not have a portrait mode.
Apple's long-rumored tablet may be garnering all the headlines, but Archos is beating them to the punch by delivering one with worldwide distribution at launch. ®