Review LaCie was among the first hard disk manufacturers to produce high capacity, multimedia storage devices designed for media playback. These hard drives, equipped with A/V interfacing, enabled you to take your digital music and video files away from your computer and play them on a decent hi-fi and a full-size TV screen. With its new LaCinema Black range, LaCie has gone a step further and produced a full-scale set-top box.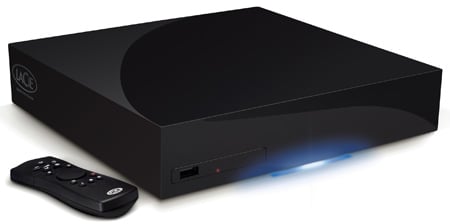 Screen idol? LaCie's LaCinema Black MAX
There are three models in the Black range, starting at around £280 for the Black PLAY, which is essentially a straightforward media server. However, we decided to test the top-of-the-range Black MAX, which costs a hefty £420 with 500GB hard disk or £505 with 1TB. That's expensive, but the Black MAX does make an ambitious attempt to combine a network media server and a set-top DVR in a single unit.
The glossy black box measures around 9in wide and deep and a little under 2in high. It's larger than an ordinary hard disk, but still only about half the size of our Sky+ box. A quick look around the back reveals a good selection of input and output options, including a digital TV tuner. However, at this price you might have expected two separate tuners, so that you could record one programme while watching another.
There's an HDMI interface plus composite and RGB video outputs for connecting to your TV, as well as composite, S-Video and audio inputs that can be used to record analogue video from external sources such as an old VCR.
Besides built-in 802.11n Wi-Fi, there's also a 10/100Mbps Ethernet interface for connecting the Black MAX to your home network. A USB port offers direct connection to a computer, with three additional USB ports reserved for external devices such as a memory stick, hard disk or digital camera.

No Scart, but adapters are supplied
Finally, there's an optical digital audio output for linking to an external audio system. There are no Scart connectors, but LaCie does include a couple of Scart adaptors in the box, along with HDMI and other A/V cables.