This article is more than 1 year old
Tech trendsetters reveal all
The fashion show for the material world
Port Lounge Table
Fittingly described as 'discreet and elegant', the EVOline Port range even carries a Red Dot design award. This modular system offers a way to minimise interfacing clutter in a variety of environments.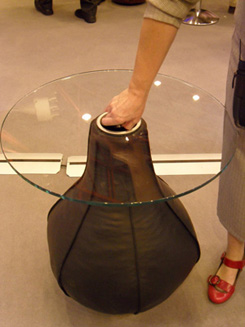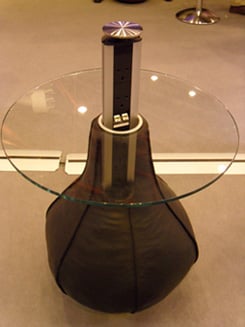 The EVOline Port makes an appearance within a stylish glass table
On show for the first time was the Evoline Port Lounge table. Press on the side of the central disc to swivel it up a little to get your fingers under and then pull it upward to access two mains sockets and two Ethernet ports. Price has yet to be set but sales staff on the stand suggested a price of around £900. More from: Schulte & Loughborough Electro Systems
Dreyfuss Special
Henry Dreyfuss, the man behind the design of a series of Bakelite telephones, lends his name to these repurposed handsets equipped with amp and speakers for MP3 audio playback.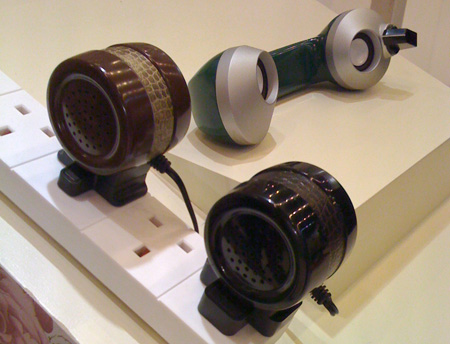 Does this sound phoney to you?
Designers Jinsop Lee and Justin Kim were well aware that these non-biodegradable phones are piled up in landfill mountains and sought another use for them. Even the earpieces are repurposed, providing vents for the Dreyfuss Special PSU. More from: Uncle Oswald is My Hero
Boxetti Thrill
Now here's something to help with the gadget-life balance. This is a system that slots away all the various components of your home cinema to become a simple white box. Designer Rolands Landsbergs creation actually covers a whole range of living spaces.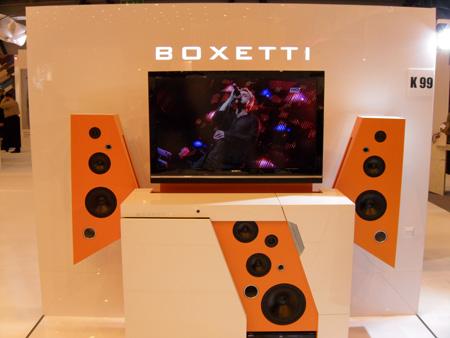 TV is extra, but it all packs away to delight the minimalist in your life
Some A/V gear is included which features a 7.1 channel receiver, Blu-ray player and a lift system for a TV up to 46in. A remote control opens it all up and puts it away. So if you're gadget-mad, but your partner hates clutter, then the Boxetti living room – or just the not so cheap Thrill at €5520 – could be solution you've been looking for, assuming you can cope with the orange. More from: Boxetti
CCTV Chandelier
Hwang Kim's CCTV Chandelier features 12 cameras, each on independently moveable arms. The concept is to deliver a 360 degree view of the head. Obviously, this is a must for anyone donning a toupee who wants to be sure of a snug rug.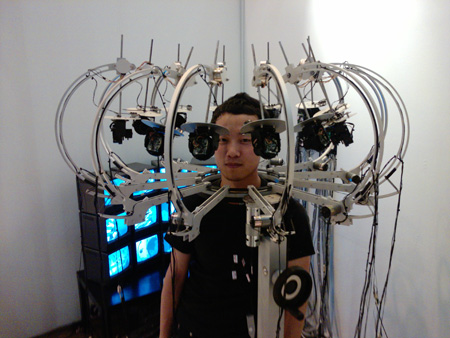 Ever get the feeling you're being watched?
A bank of 12 televisions reveal the various viewpoints, but Hwang Kim was having a few technical issues when we showed up. It seems his web site is too, but those oriental characters on the web page may well be reflecting what's happening on the ground and are simply saying, 'Work in Progress'. When we asked what price for the CCTV Chandelier, after a pause Mr. Kim showed yet another talent for invention when he said, "£50,000". Not much at the moment from: Studio Hwang Kim
100 Per Cent Design runs from 24th to 27th September 2009 at Earls Court, London. ®