The famously-sensitive users of Flickr have reacted with outrage at Yahoo!'s decision to stick its logo on the photo-sharing service.

Well, Yahoo! should have had some idea of what would happen, following the backlash against allowing Flickr users to upload videos.
The purists didn't want that, and they don't want to be reminded just who owns Flickr, as the comments reveal.
This is pretty typical of the users' stance:
We all know that Yahoo bought Flickr because they were unable to generate a success by themselves. But I truly hate the new logo. Just as I hated being swallowed by Yahoo back then.

What does Yahoo care about photography? It's just a greedy corporation in pursuit of profit. And now they want to take credit for Flickr?

All of us, who have been loyal to the original concept, and who loves photography, we made Flickr! Not Yahoo!

That's why this is far more than just a new logo: It's a rude, condescending insult to all of us!!!

Now more than ever, it's time to find a new community devoted to photography instead of dollars.
Ah, if we could only return to the good old days, before the beancounters moved in. Here's another commenter's take on how it all went horribly wrong.
In summary, this is more or less what irate Flickrers think of Yahoo!: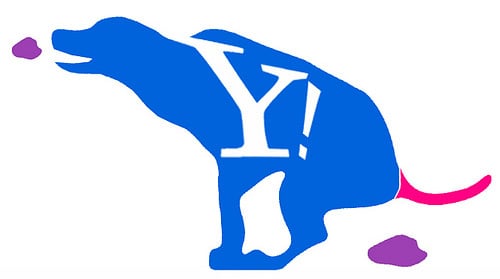 ®