This article is more than 1 year old
Opera lobby dubs IE ballot screen 'threatening and confusing'
Microsoft's 'cunning' compromise
The chief European critic of Microsoft's Windows-IE bundling says the company's proposed web browser ballot screen compromise is a sham, accusing Redmond of packing the screen with "threatening and confusing" questions.
The European Commission is well into its anti-trust investigation aimed at curtailing IE integration with the upcoming release of Windows 7 and older versions. The most likely resolution is Microsoft's acceptance this July to offer users a ballot screen that gives users the choice of installing IE or a rival web browser.
This summer, EU regulators sent out a confidential questionnaire about the ballot option to a host of browser makers, PC vendors, and others — which, of course, was obtained and made public by major news organizations.
The results of the questionnaire are in, and the Wall Street Journal has its nose in them. The publication reports that the anti-Microsoft lobby, the European Committee for Interoperable Systems, is still quite displeased with the way Microsoft wants to go about the ballot.
The group - which includes outspoken browser maker Opera along with Adobe, Oracle, and IBM - claims the ballot screen will render users witless in the face of too many buttons to click.
Selecting another browser requires "the user to confirm and answer threatening and confusing warnings and questions," ECIS's lawyer, Thomas Vinje of Clifford Chance LLP, told the WSJ. "Microsoft has cunningly found a way to accept the commission's suggestion of a ballot screen, but to do so in a way that will be entirely ineffective."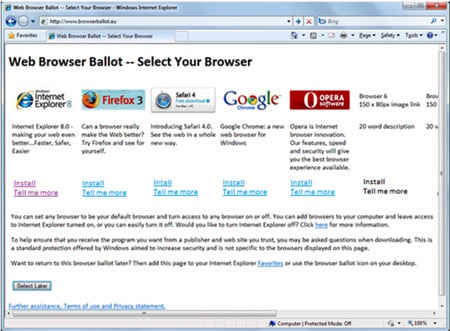 Microsoft's proposed ballot screen
Microsoft's envisioned ballot screen would use the IE browser to offer the option of using rival options. Vinje told the WSJ the current setup involves going through six windows, including security warnings, before a rival browser can be installed. He argues people are less likely to download a third-party browser with each required click.
Firefox maker Mozilla, meanwhile, told the EU that "modifications/clarifications" are needed, but that the company supports a ballot-screen settlement as a whole. ®