This article is more than 1 year old
Samsung R720 17.3in notebook
Keenly priced Pentium powered desktop replacement, anyone?
Samsung is still churning out the old Atheros AR5007EG wireless card. Released way back in 2006, this offers 802.11b/g connectivity, but not 802.11n. Some may not see this as an issue but, with 802.11n routers now the norm, we think it's a very odd decision by Samsung.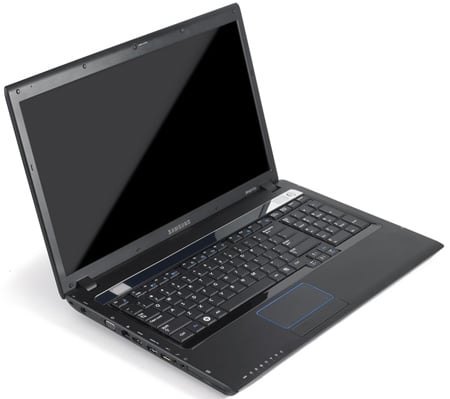 Responsive keyboard complete with numeric keypad
Other specs include a 320GB hard drive that ticks along at 5,400rpm, built-in Bluetooth and a 1.3-megapixel webcam, while everything runs off the 32-bit edition of Vista Home Premium. As for as audio is concerned, the R720 isn't exceptional. The pair of 2W speakers, just above the keyboard, is joined by a subwoofer located on the underside of the chassis, which adds a bit of extra bass to proceedings.
So, back to that Pentium Dual Core processor. In PCmark05, this budget CPU with its smaller L2 cache certainly didn't appear to hold things back. Indeed, with a score of 5165 in the CPU section, it's on a par with the Core 2 Duo T6400 processor in the R522. The overall PCmark05 score of 4905 is much better than the R522's thanks to the choice of graphics card.
Although the ATI Radeon HD 4330 is no speed demon, it's certainly a step up from the integrated graphics of the R522 and, at its native 1600 x 900 resolution, it managed to pick up 2602 points in 3Dmark06. Dropping the resolution to 1280 x 768 and then 1024 x 768 saw this score increase to 3088 and 3345 respectively. With a laptop running off integrated graphics, you can expect a score of around 700 at 1280 x 768, so the performance boost afforded by this discrete graphics chip is clear.
To further test out the Radeon HD 4330 we fired up a copy of Far Cry 2. At its native 1600 x 900 resolution, the R720 managed an impressive 29.56fps, although to achieve this we had to reduce all settings to low and turn anti-aliasing off.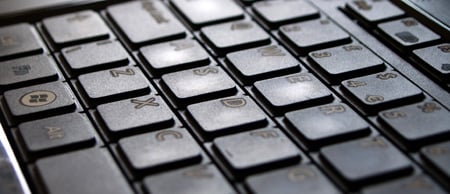 The shining: some keys soon lost their texture, developing bald spots
Switching all settings to medium while also activating 4x anti-aliasing proved more of a struggle – at 1024x768 it could only manage 16.26fps. Still, for a supposedly budget graphics card, these results aren't at all bad.