This article is more than 1 year old
Samsung R720 17.3in notebook
Keenly priced Pentium powered desktop replacement, anyone?
While bigger screens always look more impressive, they also demand far more from the battery. Although the R720's 17.3in display is LED backlit, it certainly took its toll. Powered by a 4000mAh battery, we recorded just 1hr 23mins – exactly one hour less than the 15.6in R522 was capable of. This figure was obtained with the R720 under strain, though, and in a slightly less punishing test we managed four minutes shy of two hours. Turn down the brightness, avoid processor-intensive applications, and you'll get closer to three hours usage.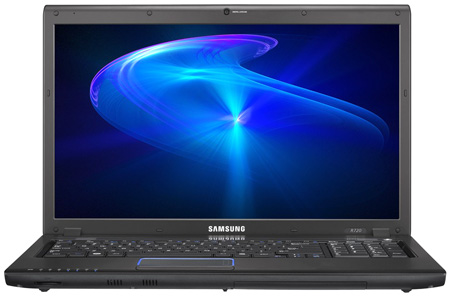 Good value compared to the competition
So how does the R720 compare to other big-screen laptops we've looked at? Toshiba's A350-12J Toshiba's A350-12J is similarly priced, though it has a slightly smaller 16in display and more restrictive native resolution of 1366 x 768. It also relies on integrated graphics and therefore doesn't offer the gaming opportunities of the R720.
The Asus F70SL is more comparable in terms of the display (17.3in, 1600 x 900) and its Nvidia GeForce 9300M GS is capable of a modicum of gaming, but it has a slower processor and is also a fair bit more expensive at £779. All of which makes the R720 look rather good value at just £599.
It's also worth mentioning that Dell has a Studio 17 laptop available for £579, but its resolution of 1366 x 768 and slightly slower Radeon HD 3650 graphics card give the Samsung's R720 the edge.
Verdict
The 17.3in screen looks good and, despite Samsung's decision to go with a Pentium Dual Core processor, the R720 returned some decent benchmark scores. Perhaps most surprising was the 3D performance afforded by the Radeon HD 4330 graphics card. Yet again, though, we're dismayed at Samsung's decision to leave out 802.11n wireless, while some of the keys losing their texture so quickly was also a concern. However, at £599 it's very reasonably priced for a 17in laptop. If you can forgive its minor flaws, the Samsung R720 is a decent, albeit relatively low-powered, desktop replacement. ®
More Notebook Reviews...

Acer
Aspire 5935

Toshiba
Satellite A350-12J

Dell
Studio 15

Acer
Timeline 4810T

Samsung R720 17.3in notebook
Great value 17in laptop, that's not averse to a bit of light gaming. Pity there's no 802.11n Wi-Fi though.