US drone crashes on Sunni party offices in Iraq
'Just an unlucky coincidence' insists military
A US military drone aircraft has crashed onto the Mosul offices of a major Iraqi Islamist political party, which last year cut off all official relations with America. The US forces said the crash was "coincidence".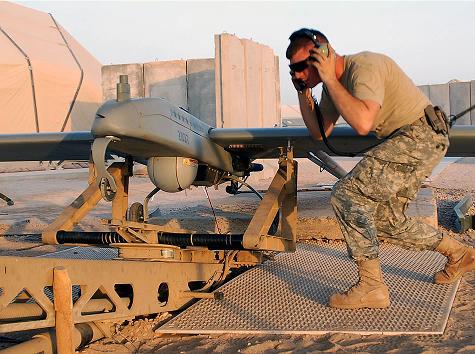 Fortunately the Shadow is fairly small.
AP reports that a Shadow drone hit the Mosul offices of the Iraqi Islamic Party on Saturday. Nobody was said to have been injured, and military spokesmen said there was no indication that the drone had been shot down or otherwise tampered with. The Shadow is a relatively small, unarmed drone aircraft used for surveillance and reconnaissance tasks.
The Iraqi Islamic Party is the largest Sunni Muslim political group in Iraq, and forms part of the government of Prime Minister Nouri al-Maliki.
Following a joint US/Iraqi raid in Fallujah last October, in which a man was killed and others arrested, party spokesmen said the targets of the operation had been party members and demanded apologies and punishments for those responsible. US forces said the dead man and the prisoners were militants.
The IIP subsequently "suspended all official contacts with US military and civilian personnel" over the matter.
Major Derrick Cheng of the US forces in Northern Iraq said on Sunday that "it was only by coincidence that the UAV impacted the Mosul Islamic Party headquarters", and that an investigation into the mishap was underway. ®