This article is more than 1 year old
Clown blasts off for ISS
Red noses all round for orbiting outpost
The billionaire founder of the Cirque du Soleil this morning blasted off from Baikonur Cosmodrome in Kazakhstan on a mission to deliver a bit of levity to the International Space Station.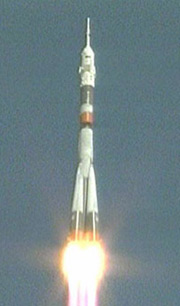 Guy Laliberté, 50, plus flight engineers Jeffrey Williams and Maxim Suraev flew aloft at 07:14 GMT aboard a Soyuz TMA-16 spacecraft. Laliberté is apparently carrying vital supplies of nine comedy red clown noses for the ISS crew, and said prior to the launch: "I am going with my sense of humour. Even in serious things you need to leave a place for humour."
Quite what Laliberté paid for his jaunt is unknown, but the same trip cost US space tourist Charles Simonyi a cool $35m. Laliberté will return to Earth on 10 October along with Expedition 20 crew members commander Gennady Padalka and flight engineer Michael Barratt, who've been on the ISS since arriving back in March.
The new professional arrivals, Williams and Suraez, form part of Expedition 21. Williams, 51, is a spaceflight vet, who previously visited the ISS on space shuttle Atlantis's STS-101 mission in May 2000. In 2006, he did a six-month stint aboard the orbiting outpost as an Expedition 13 flight engineer.
Russian Air Force colonel Suraev, 37, is making his first flight into space. ®