This article is more than 1 year old
Microsoft Security Essentials shakes up consumer antivirus
First impressions
Analysis Early tests with the full version of Microsoft's new free malware scanner software reveals a no-frills security package that does what it says on the tin.
Microsoft Security Essentials offers a significant opportunity to improve internet hygiene in much the same way Windows firewall brought a then endemic worm problem to heel six years ago. The technology also has the potential to shake up the consumer antivirus marketplace, particularly for vendors who offer free anti-malware protection.
Demand for a beta version of Microsoft Security Essentials back in June far exceeded Redmond's plans for limited trials, prompting the closure of downloads after less than a day. Tuesday's release of the full version of Essentials went far more smoothly, with no reports of major problems.
We gave the software a quick spin and found the initial install process quick and painless. After downloading a 8.6MB installation file to a test PC we downloaded virus definition updates, a process that took about five minutes. The initial scan took 18 minutes on the Win XP machine we used for the test, with a later quick scan running much more quickly.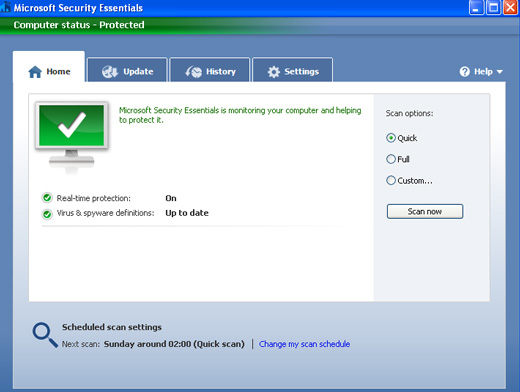 Stripped down scanner
Testing MSE's effectiveness in detecting and removing malware was beyond the scope of our quick run through.
Microsoft execs were at pains to describe Microsoft Security Essentials as a full-featured anti-malware scanner. The software offers protection against spyware, Trojan and computer viruses but it lacks many of the bells and whistles of third-party alternatives. This is your older brother's anti-virus scanner, circa 2001 vintage perhaps, and no worse for that.
The software omits firewall and anti-phishing protection by design. Also absent is anything like AVG's sometimes controversial Linkscanner technology for accessing the security of sites offered up through search engines in real time. Host-based intrusion prevention, as offered with Norton Internet Security and higher end consumer suites, is also omitted. As a consumer, and perhaps home office product, management features have also been excluded as unneeded.
The software is focused solely on malware detection and clean-up. It's an unobtrusive app with a basic, unfussy user interface.
These are all good design decisions for an entry level scanner that aims to offer an easy security alternative to consumers, many (perhaps as many as half) of who are running Windows PC without up-to-date protection.
Microsoft is offering the software through download via a microsite or Windows Security Centre. It won't be bundled with Windows 7 or offered as part of a monthly patch update. However, MSE may be bundled onto new PCs by OEMs, though not very widely.
Symantec and McAfee will continue to offer a far more financially attractive deal to top-tier manufacturers who bundle trial versions of its security suites.
Scareware buster also threatens AVG
The availability of a free-of-extra-charge malware scanner from Microsoft has the potential to make a serious dent in the booming scareware business. Users are encouraged to buy fake anti-virus software of dubious value on the basis of supposed security threats to their PC - every day brings new reports of such scams (examples posing as Firefox warning here and information about earthquakes off Samoa here), which are normally run through compromised websites promoted through black-hat search engine optimisation techniques.
The availability of anti-virus software from Microsoft undermines he credibility of such scams, even though it's unlikely to kill them off.
The release of MSE also threatens free anti-virus players, such as AVG and Avira, whose business model has relied on coaxing a percentage of its users into upgrading, sometimes using irksome tactics. Each would do better to focus on the small business marketplace but may have trouble displacing the likes of Panda and Kaspersky in that arena. The timing of the change is particularly unfortunate for AVG, which has been on the hunt for a new chief exec since July.
With Microsoft Security Essentials, Redmond is trying to offer basic protection to Windows PCs, so helping it to improve its spotty reputation for security and fend off a renewed challenge from Apple. Greater use of its client software will help it to make sales of its enterprise anti-virus and security software, while tying up the opposition (McAfee and Symantec) at fending off an arguably modest threat to consumer security suite sales.
MSE doesn't address the market for consumers who want more comprehensive protection, so established consumer security suite brands such as Kaspersky and Norton are unlikely to be hard hit. Nonetheless Symantec, AVG at al are likely to belittle Microsoft's efforts over the coming days as part of defensive marketing strategies. ®