Apple iPod Shuffle 3G
The outspoken music player
---
Review Apple's decision not to add a camera to the latest version of the iPod Touch disappointed a lot of people, but at least the 32GB and 64GB models received a new processor that gives the device more potential as a games machine. The iPod Shuffle didn't even get that. However, Apple did announce some minor changes to the Shuffle product line, so we've decided to give the latest version a quick look in time for the Christmas buying frenzy.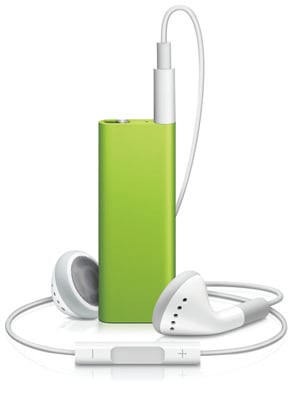 Talking point: Apple's iPod Shuffle
The original third-generation iPod Shuffle, with its ultra-compact, slimline design remains unchanged – as does its price, at £59 with 4GB of storage. Until recently, if you were looking for something that came in under the £50 mark there was the fatter, rectangular second generation Shuffle with the control button on the body of the player itself. With just 2GB of memory, it was still on sale until earlier this month for £45.
That 2G iPod Shuffle has now been phased out and replaced with a 3G model with the same price and 2GB capacity. Both 3G models are available in silver, black, pink, green and blue, and there's also a Special Edition version in stainless steel that costs £75 with 4GB storage. Battery life is unchanged at around 10 hours, a figure that was confirmed when we left it playing on a shelf all day.
The iPod Shuffle is one of those products that reveals both Apple's strengths and weaknesses. The most obvious strength, of course, is the sheer quality of the design. When you stand it upright on a desk the Shuffle is a gleaming oblong capsule that measures less than 45.2mm high, just 17.5mm wide and 7.8mm thick – and that includes the clip for fastening it to your clothing. And with a weight of just 10.7g, it really is ideal for wearing when you're out jogging, working out at the gym, or hurtling around on a skateboard.
The lack of a screen is a limitation when trying to navigate through your music collection, but today's youth appear to have embraced the concept of the random 'shuffle' quite readily, while gym-goers can easily compile playlists of their favourite workout music on iTunes prior to synchonising with their computer. Indeed, the Shuffle can a handle variety of audio formats including AAC, MP3, AIFF and WAV.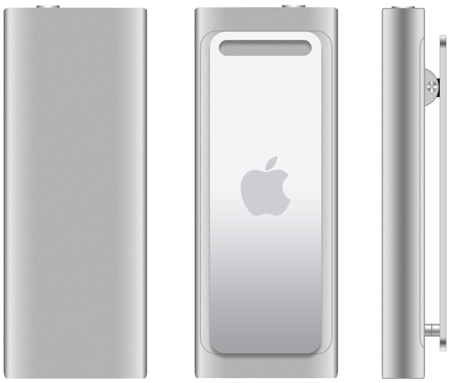 No screen, but VoiceOver reads playlists and tracks to you
To simplify the selection of playlists, the iPod Shuffle 3G includes a feature called VoiceOver that speaks aloud the names of tracks and playlists when you hold down the Play button. It's a slightly robotic, American male voice that most Mac users will have heard at some point. The system actually works quite well, but it also exposes Apple's utterly infuriating habit of limiting consumer choice by frequently creating products that are incompatible with many third-party accessories.
Similar topics
Broader topics