Apple iPod Shuffle 3G
The outspoken music player
---
The Play button and volume controls for the iPod Shuffle 3G are located on the headphone cable, rather than on the player itself. The at-best-average audio quality of Apple's headphones has long been considered one of the iPod's main shortcomings.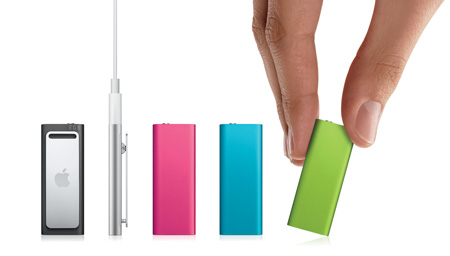 Controls on the cable limit headphone options
However, the fact that the Shuffle's controls are on the headphone cable means that you can't simply substitute an alternate set of headphones that you already own as they won't be able to control the iPod.
In order to use your own headphones you'll have to buy a special adaptor such as Belkin's Headphone Adaptor for £15 or just bite the bullet and purchase an entirely new set of headphones from companies such as Sony, Klipsch or Scosche who are releasing Apple-approved headphones with the appropriate built-in controls. Still, at least Apple supplies a USB cable for charging and sync'ing.
Verdict
The limited choice of headphones is a nuisance, but the main aim of the iPod Shuffle is to provide an affordable and ultra-lightweight music player – and on that score it still succeeds admirably. The iPod nano is the mainstream model for Christmas, but the Shuffle should still sell well as a stocking filler for younger children or adults who want something really lightweight to wear when they're working off their Christmas dinner down at the gym. ®
More Media Player Reviews...

Apple iPod
Nano 5G

Cowon
D2+ DAB

Apple iPod
Touch

Sony Walkman
X-Series

Apple iPod Shuffle 3G
Ideal if you're looking for a really lightweight music player, but the limited choice of headphones will deter many people.
Price:
£45 (2GB), £59 (4GB), £75 Special Edition (4GB) RRP
Similar topics
Broader topics