Web GUI hides number-crunching open source elephant
Cloudera's Hadoop desktop
Hadoop World Cloudera - the startup that commercialized the Google-like number crunching of the open source Hadoop project - has unveiled the first web-based GUI for running applications on the much-hyped distributed computing platform.
Announced this morning at the Cloudera-sponsored Hadoop World in midtown Manhattan, the free Cloudera Desktop provides a graphical user interface for creating and submitting jobs on a Hadoop cluster, monitoring the cluster's health, and browsing stored data. Typically, Hadoop clusters are managed via the command line.
"We always knew we had to create some kind of Hadoop management console," Cloudera vp of product Jeff Hammerbacher tells The Reg. "The idea is to make Hadoop more accessible and usable by non-developers and non-web-organizations."
Inspired by research papers describing Google's proprietary software infrastructure, including its GFS file system and MapReduce platform, Hadoop is a means of crunching extremely large amounts of data across a network of distributed machines. The Apache-hosted project was founded by Nutch crawler creator Doug Cutting, who spent several years driving Yahoo!'s Hadoop work before leaving for Cloudera. Famously, Cutting named the project after his son's yellow stuffed elephant.
The Cloudera Desktop runs insides a browser, but it's meant to have the look and feel of a desktop OS. Make that Apple's Mac OS X: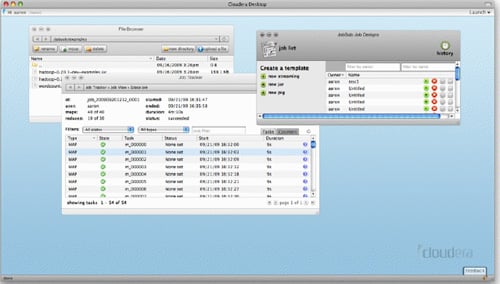 (Early incarnation of) the Cloudera Desktop
The initial version of the pseudo-desktop environment includes four applications: a file browser for copying and browsing data files; a job submission tool for creating jobs, running them, and saving them for later use; a job browser for tracking live jobs; and a health dashboard for monitoring the cluster and alerting users to problems.
Unlike the Hadoop platform itself, the Cloudera Desktop is not open source - at least not now. And for the moment, it only works with Cloudera's Hadoop distro - though Hammerbacher says it will eventually front other distros as well.
The ex-Facebooker also says that the company has pieced together a developer toolkit that should soon deliver additional applications for its Desktop. These include an app for writing Hive queries, Hadoop's SQL-like coding language, and a GUI version of SQOOP, the Cloudera-created tool that imports data from existing databases. For its own internal Hadoop implementation, Facebook offers its semi-technical employees a Hive GUI known as HiPal
The Cloudera Desktop requires the installation of a server, which can be downloaded here. At some point, Hammerbacher indicated, third-party developers will also have access to the tool-kit. ®