Luminaries from the world of improbable research last night gathered at Harvard's Sanders Theatre for the 19th Ig Nobel Prize Ceremony, which saw honours awarded to a gas mask bra, research proving cows with names give more milk, and similarly vital work showing that "kitchen refuse can be reduced more than 90 per cent in mass by using bacteria extracted from the feces of giant pandas".
Elena N. Bodnar, Raphael C. Lee, and Sandra Marijan of Chicago secured the Public Health title for their brassiere which, "in an emergency, can be quickly converted into a pair of gas masks, one for the brassiere wearer and one to be given to some needy bystander":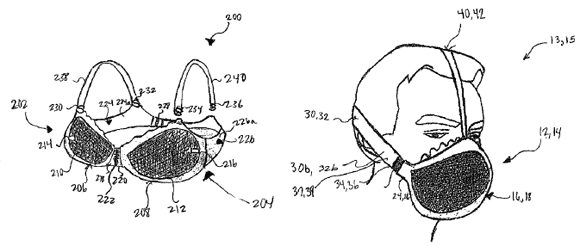 Brit Peter Rowlinson of Newcastle University attended in person to soak up the applause for "Exploring Stock Managers' Perceptions of the Human-Animal Relationship on Dairy Farms and an Association with Milk Production".
This ground-breaking bovine probe demonstrated the average amount of milk produced by a cow over its annual ten-month lactation period is 13,198 pints, but that cows with names yielded 454 pints more, on average.
Rowlinson's colleague Catherine Douglas "was unable to travel because she recently gave birth", so she "sent a photo of herself, her new daughter dressed in a cow suit, and a cow".
Fumiaki Taguchi, of Japan's Kitasato University Graduate School of Medical Sciences, was able to make the trip and take a bow for "Microbial Treatment of Kitchen Refuse With Enzyme-Producing Thermophilic Bacteria From Giant Panda Faeces".
Other laureates were Stephan Bolliger, Steffen Ross, Lars Oesterhelweg, Michael Thali and Beat Kneubuehl of the University of Bern, for "Are Full or Empty Beer Bottles Sturdier and Does Their Fracture-Threshold Suffice to Break the Human Skull?", and Javier Morales, Miguel Apátiga, and Victor M. Castaño of Universidad Nacional Autónoma de México, immortalised for "Creating Diamonds From Liquid - Specifically From Tequila".
The full list of winners is right here. We're delighted to note it includes Ireland's Garda, celebrated for their now-famous dragnet in pursuit of Polish serial traffic offender Prawo Jazdy, aka Mr Driving Licence. ®