iPhone developer stamps out calculator profanity
5318008, trouble us no longer
---
The twisted path that led you to becoming the horrible person you are today probably began when your adolescent mind first realized you could spell "BOOBIES" on an upside-down calculator.
A seven-segment display can harvest more civilized output like "thesis," "legible," or even "Othello" – yet somehow you couldn't resist the cheap laugh with a word problem arranged to land on 58008 or one of its titular derivatives. Numerous studies have proven that pornographic, adult-rated material, when consumed by impressionable kids, can have untoward, sometimes dangerous behavioral consequences.
Yet we, as a society, ignore a scheme conveniently upheld by calculator makers for decades that twists innocent minds with rude words and vulgar fractions.
Families today are under siege by Big Calculator corporate interests aimed at mentally molesting minors for money – and only one iPhone developer has the floating points to stop them. James Thomson, the creator of PCalc has premiered bleeding-edge calculator censorship technology that detects when the iPhone is turned upside down with a potentially abased readout.
Behold: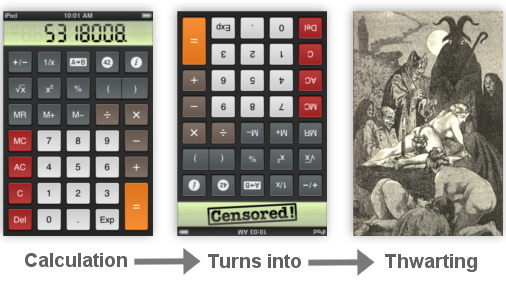 We applaud your public-spirited act of self-promotion, Thomson. A single child saved from a devilishly entertaining math problem is more than worth the effort. ®