Pluto still a planet, says Ronald McDonald
Burgermeister defies International Astronomical Union
---
Those of you who prefer to protect your kids from US scientific propaganda would do well to steer clear of McDonalds, which has apparently decided it doesn't approve of the 2006 International Astronomical Union ruling which booted Pluto out of the league of planets.
Try this Happy Meal box for fairly damning evidence of Ronald McDonald's opinion on the matter: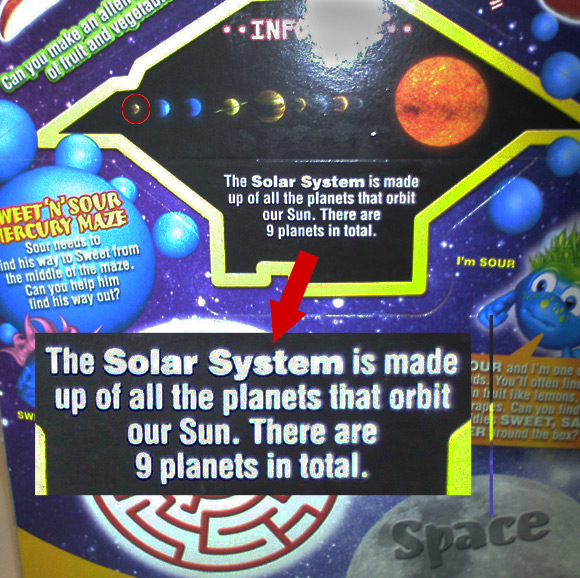 To recap, Pluto's demotion didn't go down at all well in some quarters across the Pond, which may have had something to do with the fact that the planet plutoid was discovered by Illinois native Clyde Tombaugh.
Earlier this year, the state ordered that "March 13, 2009 be declared 'Pluto Day'... in honor of the date its discovery was announced in 1930" and that as the body "passes overhead through Illinois' night skies, that it be reestablished with full planetary status".
Looks like a sponsorship opportunity for McDonalds, we reckon. ®
Bootnote
Thanks to shaken Brit Phil Tanner for the tip-off. He describes his recent trip to McDs with the kids as "a rare occurrance :P".
Similar topics
Broader topics