A website launched today by the UK's Conservative Party is titsup, at time of writing.
The MyConservatives.com site, which claims to be "the most ambitious party political campaigning network of its kind outside of the US" is currently redirecting to the Tories' main website while the party tries to fix the problem.
Conservative Party online communities editor Craig Elder cheerily notes on his Twitter: "OK, so when I said 'everyone get onto MyConservatives', I didn't mean all at once. We'll have it up and running again shortly :)".
The Facebook-for-Tory-fans site was developed by Conservative new media boss Rishi Saha, and is managed by one-time David Cameron speechwriter and former editor of Conservative Home Sam Coates.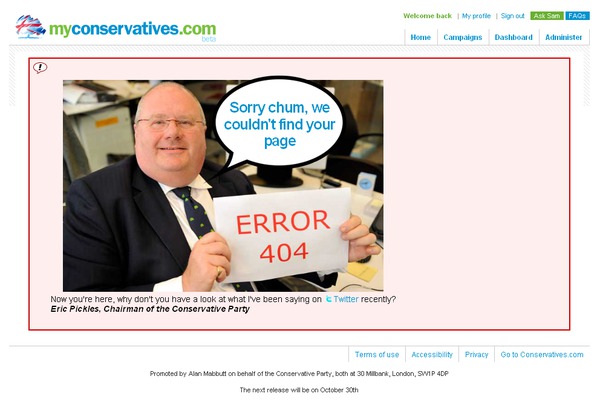 "We're really pleased to have got this off the ground, and that it's already being talked about as one of the most advanced campaigning platforms of its kind anywhere in the world," opined Coates on the Tory blog today. Presumably he wrote that before the site died on its derrière.
The site is supposed to encourage Tory fans to use MyConservatives as a campaigning tool, but "REALLY high levels of demand" have apparently forced the blue brigade offline for now.
The Register has asked the Tories what went wrong - we'll update this story if they get back to us. ®