This article is more than 1 year old
Apple chokes on Woolworths logo
Objects to Oz retailer's brand frontage
LogoWatch Apple has moved to prevent Oz retailer Woolworths from trademarking a logo - something which would allow it to "slap its branding and logo on every imaginable product", as The Age puts it.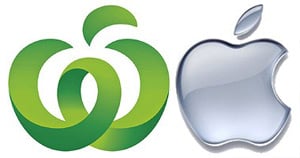 The problem is, according to Apple, that Woolies' brand frontage is too close to its own. Woolworths' trademark application "includes a wide class for electrical goods and technology", meaning it could theoretically use it to brand computers.
A Woolworths spokesman did, however, say: "While we can't rule anything out, we haven't got any plans at the moment."
The logo's designer, Hans Hulsbosch, described Apple's action as "extreme". He said: "Based on this logic, they would have to take action against every fruit-seller."
According to trademark lawyer Trevor Choy, Apple often moves "to prevent others from using anything that resembled an apple in a logo or marketing". He said: "They are just covering any eventualities."
Apple will now have to convince IP Australia, which controls trade marks Downunder, that Woolworths has stepped on its toes. Apple declined to comment on the matter, The Age concludes. ®