Adobe MAX Adobe has unveiled Flash Player 10.1. Announced today at the company's MAX conference in Los Angeles, the product's most notable feature is that the full player - rather than a cut-down "lite" version - will be delivered to mobile devices and netbooks as well as for the desktop
No Apple iPhone yet. But supported mobile operating systems include Symbian S60, Google Android, Palm Web OS, and Windows Mobile 6.5. Actual devices with Flash 10.1 are promised for the first half of 2010 and will feature hardware acceleration for H.264 video on chipsets including Qualcomm's Snapdragon and NVIDIA GeForce, ION, and Tegra as well as support for multi-touch gestures and accelerometers where present.
According to Adobe, Flash is used for 75% of video and 70% of games on the web, and the current version 10 has achieved 93% penetration. Riastats.com shows a more modest 81% for Flash Player 10, but it remains well ahead of rival runtimes such as Microsoft Silverlight and Sun Java.
In a separate announcement, Adobe says that Google is joining its Open Screen Project, dedicated to supporting Flash video everywhere. Google has been wary of Flash in the past, on the grounds that it is not part of the open web, but Sundar Pichai, VP of product management, now says that the Open Screen Project "supports our common goal to move the Web forward as a platform." This means we can expect Flash and probably AIR to feature in the forthcoming Chrome OS. But at the same time Google may still push for HTML 5 to take over some of the features for which Flash is used today.
Speaking at the Future of Web Applications conference in London last week, Opera's Bruce Lawson said the "HTML 5...has been designed as an open standard and it competes with Flash and Silverlight. I believe that the web is too vital a platform to be in the hands of any one vendor," for which statement he was cheered by delegates.
Still, Flash is a remarkable runtime, HTML 5 is not yet done, and Adobe continues to extend its reach. Flash also features in Adobe LiveCycle ES2, also announced at MAX. Livecycle is a suite of 14 mainly server products, most of which began in the days before the merger with Macromedia that brought Flash alongside PDF. LiveCycle applications encompass functions including PDF generation, document rights management, document workflow, and content management. LiveCycle Data Services is middleware that connects Flash applications to Java application servers.
So what's new in LiveCycle ES2? Adobe's focus is on simplifying the creation of LiveCycle clients using Flash and PDF. Several pieces are involved. Mosaic is what Adobe calls a "composite framework," a set of configurable user interface panels, or tiles, which slot together to form a custom portal to LiveCycle services. Launchpad is an AIR application for delivering content such as secure documents. LiveCycle Workspaces receive workflow alerts and tasks on mobile devices. Adobe Application Modelling lets you build visual models on Livecycle classes and generate corresponding Flex code in Flash Builder 4, the forthcoming Eclipse-based Flex IDE.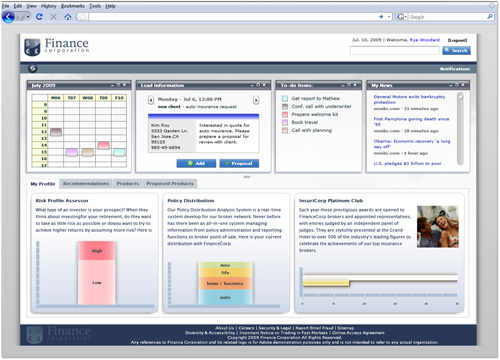 Mosaic is a framework for creating tiled applications that access Adobe LiveCycle services
Adobe has a demo application which shows how all this might come together. In the demo, a customer of an online bank receives a secure PDF account statement, protected by Livecycle rights management. The statement is not a simple table of transactions, but a PDF portfolio including Flash charts to visualize the figures, and other Flash content marketing bank services – a kind of PDF junk mail.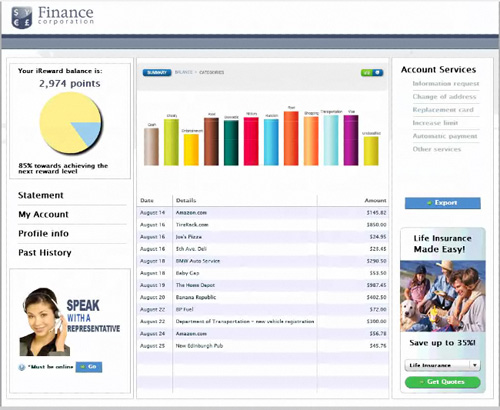 Part of a PDF portfolio, this is Adobe's demo of a rich bank statement including charts and Flash applications
PDF Portfolios are a feature of Acrobat 9 that allow multiple content types within a single PDF wrapper. The user clicks a life insurance ad within the PDF, which opens a quote request form. Submitting the form triggers an alert in the broker's Mosaic application online, whereupon the quote is processed.
There is a bit more to the demo, but you get the picture: LiveCycle middleware driving rich clients and even applications running within PDF portfolios. Might these highly distributed applications be a nightmare to manage and debug? "That does present a challenge, but Adobe has tried to address is by significantly improving the diagnostics in not just LiveCycle, but also Flexbuilder 3 and Flash Builder 4, to cope with developing both for online and offline clients," says Will Cawthorne, an Enterprise Consultant at Adobe. But why not just make a web application?
"We can pull this information down to the customer instead of them having to come to our website," he says, adding that financial services companies are particularly keen to find new ways of getting "information" to their clients. It seems that if Adobe has its way, Flash marketing will be appearing in our documents as well as on the Web. ®
Similar topics