This article is more than 1 year old
Most Mac owners getting Windows on the side
The Moulin Redmond
The stereotype goes that Mac fans are markedly loyal to their platform. And while a new study by the NPD Group shows Apple adoption is on the rise, the vast majority of Jobs-fearing homes also keep a Windows PC running under their roof.
More than 12 per cent of US homes have at least one Mac, according to NPD's latest Household Penetration study - a rise from nine per cent the research company polled in 2008. But of those Mac owners, nearly 85 per cent have at least one Windows-based PC.
Mac owners not only swing both ways when it comes to operating systems, they're also more likely to own multiple computers than Windows-only households. NPD's poll showed 66 per cent of homes with an Apple computer owned three or more computers, compared to just 29 per cent of Windows households.
Houses with Macs also tend to have a mobile slant as well. Approximately 72 per cent of Apple households own a notebook, as opposed to 50 per cent of homes with a Windows PC.
The trend also follows ownership of consumer electronics devices in general, as you can see from NPD's chart below. For example, while 36 per cent of total computer owning households have an iPod, about 63 per cent of Mac-owning households have the device. Only five per cent of total computer owning households have a digital SLR camera while 32 per cent of Mac-owning cameras have a digital shutterbug.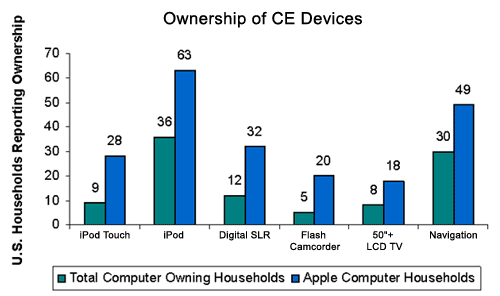 Spread the tat: NPD plots ownership of consumer electronics devices
NPD logically chalks up the differences to wealthier people being more likely to splurge on Macs in addition other kit.
"While Apple owners tend to own more computers and more electronic devices, there is also a high correlation among Apple owners and more affluent consumer households," NDP's vice-president of industry analysis Stephen Baker said.
"Thirty-six per cent of Apple computer owners reported household incomes greater than $100,000, compared to 21 per cent of all consumers. With a higher household income, though, it's not a surprise that those consumers are making more electronics purchases."
But does that explain why Mac owners feel the need for a Windows machine too? And sadly, Linux seems to be out of the picture in this study.
NPD compiled its results from 2,300 responses to an online survey of US households. ®