Voice calls and data sessions were smooth and handoff to the macro network worked perfectly – calls and data sessions transferred seamlessly. The return journey was more bumpy; we never had a call transfer to the femtocell despite becoming seriously degraded, and even cut off, though the handset did pick up the femtocell quickly once the call was over, but we expected a smooth handoff.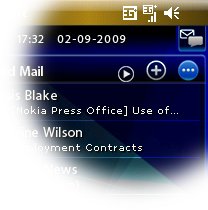 Detective work: 3G signal, but is it true or make-believe?
Vodafone recommends a minimum of 1Mb/sec broadband for the Access Gateway, and provides a web site where one can test one's connection to see if it has the requisite speed. If you have that sort of bandwidth then things should work perfectly, but the Gateway has no priority of traffic across the Internet, so it's best-effort only. We throttled the bandwidth down to about a quarter of the recommendation and still had a perfectly usable service, which only choked when we started some streaming video over the same connection.
Calls using the cell will count towards your broadband fair-use limit, though you would have to make an awful lot of voice calls for that to become an issue, more likely you'll hit Vodafone's limit when using the 3G dongle built into your laptop, and it will be interesting to see if Vodafone really gets heavy with customers overusing their own broadband connection.
Handset battery life wasn't effected greatly, we had hoped to seen an improvement as the handsets wouldn't have to reach out to distant cells, but the constant use of 3G seems to negate that. On the other hand, our Samsung Omnia decided one day to conserve power by shutting down its 3G radio and was thus unable to get a connection despite being right beside the 3G-only femtocell.
Verdict
So if you want Vodafone coverage in a dead zone, and have broadband, then the Vodafone Access Gateway is the only option. Still, every single operator in the UK is testing femtocells at the moment, and at least one company is planning a generic service, so while its the only option today that's set to change very soon. Vodafone is also pricing this very high, at £160 or £15 a month, to see if punters will jump at that price [since this was written the price has now dropped to £5 a month]. Wait a year and you'll get a free femtocell, and probably discounted calls, but that would be another 12 months without a usable mobile phone. ®
More Mobile Networking Reviews...

Solwise 3.5G
plus WLAN Mobile
Server Router

Huawei E176
Micro SDHC-ready
HSUPA 3G modem

Sierra
Wireless Compass 885
HSUPA 3G modem

Novatel
Wireless Ovation MC950D
HSUPA modem

Vodafone Access Gateway 3G
Overpriced hardware that allows you to pay for your mobile calls twice, but at least it does enable you to make those calls.
Price:
£160 or £5 a month RRP