Archaeologists say they have discovered a new kind of tyrannosaurus, very different to the big bruiser tyrannosaurs already well known. The new dino was slim, light on its feet, horny and partial to meat, according to the boffins.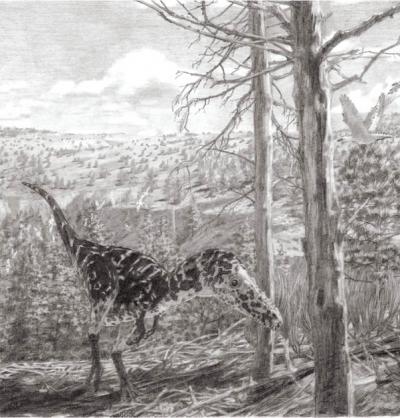 Scientist's impression of the horny tyrannoballerina in action.
"Compared to Tyrannosaurus, this new animal is like a ballerina," says Stephen Brusatte of the American Museum of Natural History.
"Not all tyrannosaurs were megapredators adapted for stalking and dismembering large prey. Some tyrannosaurs were small and slender," adds the researcher.
The new, more graceful tyrannosaur is named Alioramus altai. Its fossilised remains were discovered during a 2001 bone-digging expedition to the Gobi Desert in Mongolia co-chiefed by the Museum's paleontology chief, Mark Norell.
A. altai apparently has a similar skeleton to larger Tyrannosaur-type dinos such as Tarbosaurus, Alioramus, Gorgosaurus etc. But among these burly heavyweights, A. altai was surely the butt of cruel locker-room bullying and dino towel-snapping, weighing in at a puny 800 pounds or so - half the weight of the regular tyrannosaurs. The ballerina-esque, "gracile" A. altai also differed from the big boys in having horns and an elongated snout.
"This fossil reveals an entirely new body type among tyrannosaurs, a group we thought we understood pretty well," says Norell. "The different body forms probably allowed Alioramus and Tarbosaurus to coexist."
The comparatively sensitive and delicate little tyrannosaurs still liked meat, though, probably going for smaller prey as they would be unable to cope with really big bones.
Subscribers to the Proceedings of the National Academy of Sciences can read the new research here. ®
Similar topics