Review Earlier this year, Fujitsu launched a somewhat unsuccessful assault on the netbook market with its Amilo Mini UI 3250. Suffering from a slow hard drive, fiddly keyboard and ever-so-slightly-ugly chassis, it didn't fare too well in our review.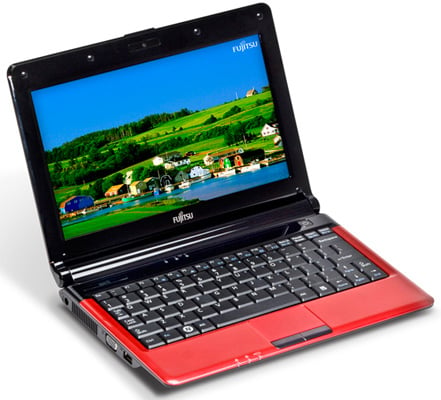 Fujitsu's M2010: still room for improvement
Now, just a few months later, Fujitsu is back on the netbook warpath with the M2010. Featuring a 10.1in screen, it's available in three colours – pearl white, metallic red and sparkling black – all of which come with the same glossy chassis complete with a large Fujitsu 'infinity' symbol on the lid.
At 258mm, the M2010 is roughly the same width as rival 10in netbooks, however, the six-cell battery juts out at the back and pushes the depth to 205mm. The battery also adds to the thickness, measuring 43mm at the rear and 32mm at the front, while pushing the total weight to 1.33kg.
Fujitsu has gone for Intel's Atom N280 processor, which runs at 1.66GHz off a 667MHz FSB. Graphics are handled by Intel's GMA 950 chip, while 1GB of DDR2 memory is also installed – this can be upgraded to 2GB, but there's only one slot available so you'll need to ditch the preinstalled module to achieve this. Other specs include a 160GB hard drive, 802.11b/g Wi-Fi and Bluetooth. Needless to say, XP Home comes preinstalled.
The 10.1in LED-backlit screen has a 16:10 aspect ratio and native resolution of 1,024 x 600. Unlike the Amilo UI 3250, the screen has a glossy coating, which means it's a magnet for reflections. Vertical viewing angles are a little disappointing and careful positioning is required to see it at its best. Still, it's bright enough to be viewed outdoors, even on a sunny day, while the glossy coating makes it look particularly vibrant indoors.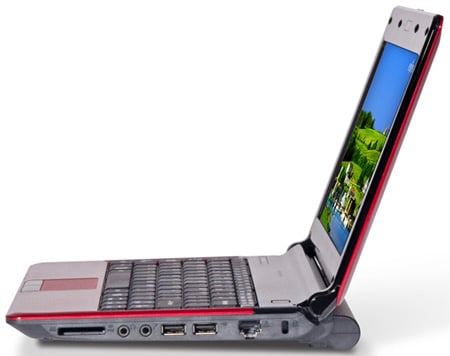 Standard netbook ports and sockets
Usability is, of course, of paramount importance on a netbook, and it's therefore something of a shame that the M2010's keyboard feels very cramped. When attempting to touch type at speed, we suffered frequent slips onto neighbouring keys and ended up adopting a rather spider-like typing style.