This article is more than 1 year old
Times papers trains with climate change blunder
Don't read us, we're rubbish
The Times has liberally papered London underground carriages with a fascinating new ad campaign. One poster shows a ship navigating some treacherous icy waters, with the accompanying copy reading:
Climate change has allowed the Northeast Passage to be used as a commercial shipping route for the first time.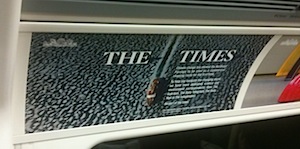 The Times
Impressive - if only it were true. The Northeast Passage has been opened for commerce since 1934 - and never 'closed'.
Over the years hundreds of thousands of freighters have passed through, and after Russia put Soviet-era politics aside it was extended to foreign commerce in the 1990s. As we reported two weeks ago, it took bloggers a few seconds to find this out, and unearth a wealth of maritime history. But when German shipping company Beluga issued a press release claiming to be the first foreign pioneer, many newspapers and the broadcast media (the BBC) were in such a rush to report another example of Global Warming, they didn't bother to check the claim - and reported it verbatim.
Among the parrotters was Times hack Tony Halpin, here, who cleaned his Trumpet of Doom and proceeded to shoot himself in both feet with this blast: "It is both a symbol of global warming and a potentially lucrative new trade route between Europe and Asia."
According to the ad copy:
To help you navigate the changing world we have more dedicated science and environment correspondents than the Guardian, Daily Telegraph, Daily Mail or Independent.
Quality isn't quantity, evidently. But a fascinating question arises. Why spend so much money to tell commuters that you've cocked things up? It doesn't make sense. Perhaps there's a better explanation.
Perhaps what the Times has noticed is that there's a lucrative market for environmental scare stories. What the advertisements are doing is targeting this segment of the superstitious middle class, which wants to believe that Thermageddon is nigh, or that oil will run out next week, or that a tsunami of non-biodegradable plastic refuse will engulf the family Volvo on its morning school run - shortly before it's zapped by deadly WiFi radiation.
No one today is as superstitious as the Grauniad-reading middle class, and the Times wants some of the action. And perhaps some of those adverts for "survival seeds" you hear on US talk radio.
When you think about it, this is actually a much more rational explanation. So what the Times really wants to convey is that it can be relied on to get it wrong - and has more staff devoted to getting things wrong than anybody else. ®
Andrew warmingly welcomes your Comments.