This article is more than 1 year old
Lexmark C736dn workgroup colour laser printer
Paper mountain?
Physical installation is fiddly, as the machine uses separate drum units and toner cartridges and each has to be prepared separately, though they're supplied in situ. There are also some spacers and protective papers to remove, and while none of this is particularly awkward, the cartridge approach is a lot easier. Software installation is straightforward and includes Lexmark's MarkVision, a helpful network-capable monitoring applet.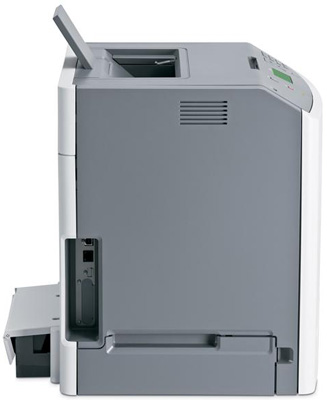 A tall case, but unprepossessing looks
The speed of a workgroup printer is one of the key elements you pay for and Lexmark quotes 33ppm for both black and colour print. Yet again, the quoted speed is for an optimal print job, in draft mode and excluding page preparation time. Even the recently released ISO standard for print speed testing hasn't corrected this continuing bit of hype. Quoted print speeds are still typically engine throughput speeds, which don't represent the real-life performance you're likely to see.
Starting with a five-page text print, we saw a time of 19 seconds from clicking OK in the Print dialogue to the final page arriving in the output tray. This equates to an effective print speed of 15.8ppm, less than half the quoted speed. Printing a 20-page document increased the speed, but still only to 25.5ppm. While we may whinge about exaggerated speed claims, a print speed of 25.5ppm is adequate for most workgroups and, even with a long document, you won't be waiting long at the water cooler while it prints.
The C736dn has a duplexer built in and it's a particularly efficient device in the way it performs double-sided printing. It takes in sheets two at a time and prints the first sides of each, before printing the second sides. The same 20-page document, printed as a 10-page, 20-side job, took 1:06. This is equivalent to 18.2spm, which is nearly three quarters of the simplex speed, unusually high.
Text print quality is very good, with clean, densely black characters showing no signs of jaggedness or toner spatter. We wouldn't really expect to see any irregularities in the character shapes, given the default resolution of the machine is a high 1200dpi.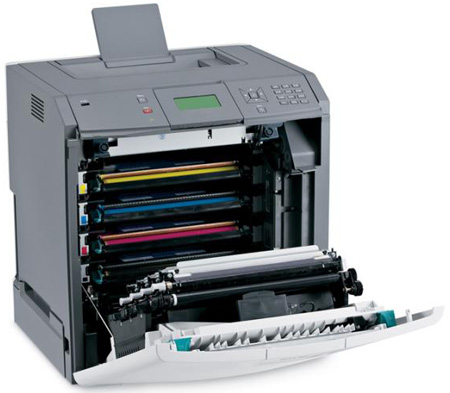 Consumables are accessible, but there are a lot of them
Colour print is bright and attention grabbing, though some colours are brighter than they should be. While this has little effect on business graphics, where you're dealing mainly in primaries and with a limited colour range, it does mean that photo reproduction is slightly gaudy, with a cast to the red end of the spectrum. There's also a slight mis-registration of blue and black, though neither this nor the brightness of the colour is a deal-breaker for most business uses.