This article is more than 1 year old
FBI chief barred from online banking by wife
Domestic surveillance
America's chief spook has been banned from internet banking by his wife after nearly falling prey to a common email phishing scam.
FBI Director Robert Mueller was in San Francisco on Wednesday to advocate public vigilance against cybercrime. Speaking to the non-profit public affairs org, the Commonwealth Club of California, Mueller admitted that he himself barely dodged a con from the oldest trick in the cyber-criminal handbook.
Mueller recalled how, not long ago, he received an email purportedly from his bank that looked "perfectly legitimate." The email requested he verify some personal information, and Mueller obliged with the instructions before realizing "this might not be such a good idea."
The FBI chief said he quickly changed all his passwords and tried to pass the incident off to his wife as a "teachable moment." But she replied: "It is not my teachable moment. However, it is our money. No more internet banking for you!"
Mueller said while such scams are an every day occurrence, similar internet chicanery is being used by "criminals, spies, and terrorists." Be afraid, be very afraid.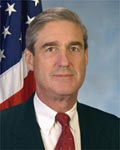 Mueller: e-free banking
"We know the game plan of our adversaries. They will keep twisting the doorknobs and picking the locks until they find a way in. But we must not let them in. We must change the locks. We must bar the doors. And we must sound the alarms when we notice anything out of the ordinary."
Yet not everyone in attendance was convinced it's the cyber criminals that are the biggest threat to America. When questions were read from the audience, one (smartly) anonymous query began: "I'm not worried about a teenage hacker reading my email. I'm worried about you reading it."
Mueller responded that the questioner should in fact worry about the teenager "so much more" than the FBI. The G-man general said while preventing internet crime is incredibly difficult, the US government has struck "a pretty good balance" between respecting civil liberties and stewarding national security.
His speech was delivered the day US and Egyptian officials announced they've charged 100 people with conducting a phishing operation they call the biggest cybercrime case ever.
A transcript of Mueller's speech can be found at the FBI website. Or at least, what looks like the FBI website. ®