Google maximizes minimalist homepage madness
Rainmen test one word search site
---
Google has taken its Rainman-like minimalist-homepage obsession to new extremes, testing a page that includes nothing but the Google name and an empty search box. And a very small trademark symbol. It looks like this: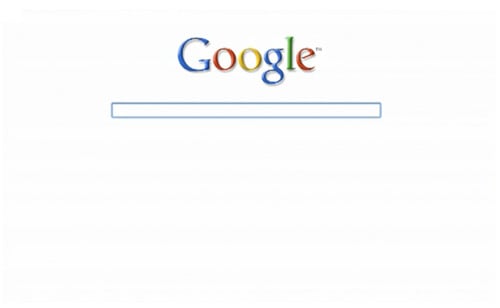 But there's, well, more. It is no doubt with great pain that when you mouse over this bare-bones test page, Google slots in all sorts of other bits:
But you'll notice that at least in some cases, even the mouse-over sidesteps the oh-so-familiar "Google Search" and "I'm Feeling Lucky" buttons that typically turn up below the search box.
You too can experience Google's pathological minimalism by visiting the google.com homepage, typing the following script into your address bar, and hitting the reload button:
javascript:void(document.cookie="PREF=ID=abac7a90f5a3784b:LD=en: NR=10:TM=1254990196:LM=1254990236:S=uB6F4jDnMP_DuxtT;path=/; domain=.google.com");
You may notice that your incarnation of the test includes the "Google Search" and "I'm Feeling Lucky" buttons. But unless you're a numerophilic compulsive along the lines of Googirl Marissa Meyer, you should have no problem stomaching those five extra words.
Famously, Meyer takes great pride in the fact that the current Google homepage includes only 28. Except when it doesn't. ®
Bootnote
A tip of the hat to TechCrunch and Google Blogoscoped. ®