Leccy Tech Nissan has demoed its latest take on the electric car, which takes the word 'futuristic' to a whole new level.
Can't see the video? Download Flash Player from Adobe.com
Technical details about the Land Glider – which we assume is a concept – are scarce. But we do know that the vehicle continues Nissan's Zero Emission e-car line, which kicked off with the recently revealed Leaf.
Land Glider's most interesting feature is its drive style, because the car can physically lean into corners – making the e-car a must for those winding B-roads traversed by country folk and Londoners on Sunday afternoons.
The futuristic theme continues inside Land Glider, with the driver centrally placed in a racing style four-point harness seat and offered a steering yoke for control.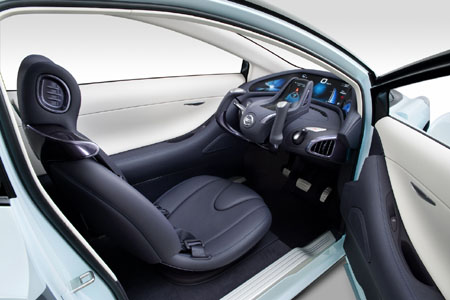 Nissan's Land Glider doesn't have wing-mirrors, we should mention
Pictures appear to show a small passenger space behind the driver, but it's possible that Nissan also designed the space for robot wives or personal jetpacks.
Knight Rider's red strip light has been built into the pack of the Land Glider – we don't think the car talks to you, though.
Nissan hasn't said if it plans to put the Land Glider into production. ®