This article is more than 1 year old
Ralph Lauren DMCAs thin Photoshop skills
Tiny pelvis takedown nonsense
Ralph Lauren may or may not have a knack for fashion. But we can safely say the American clothing giant needs a little help with Photoshop. And the DMCA. And the Streisand Effect.
Late last month, the always amusing PhotoshopDisasters blog spotlighted this disaster of a Ralph Lauren ad: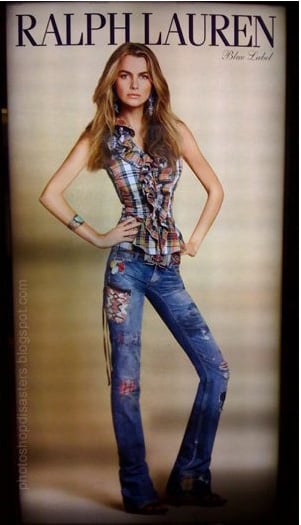 PhotoshopDisasters and BoinBoing pile it on
Clearly, the fashion world admires a slim build, but this goes a bit far. As BoingBoing put it: "Dude, her head's bigger than her pelvis."
Though this is hardly an unfair assessment, Ralph Lauren is not amused. The fashion house soon tossed DMCA takedown notices at the service providers that host PhotoshopDisasters and BoingBoing, insisting they remove the image from their servers. Blogpost - the blogging service that hosts PhotoshopDisasters - complied. But BoingBoing and Canadaian ISP Priority Colo rightly refused. As BoingBoing points out, this is a classic case of copyright "fair use" for purposes such as criticism, comment, news reporting, teaching, scholarship, and research.
"So, instead of responding to their legal threat by suppressing our criticism of their marketing images, we're gonna mock them," BoingBoing wrote in a follow-up post. Their mockery of Ralph Lauren, its marketing arm, and its lawyers looked like this:
So, to Ralph Lauren, GreenbergTraurig, and PRL Holdings, Inc: sue and be damned. Copyright law doesn't give you the right to threaten your critics for pointing out the problems with your offerings. You should know better. And every time you threaten to sue us over stuff like this, we will:

a) Reproduce the original criticism, making damned sure that all our readers get a good, long look at it, and;

b) Publish your spurious legal threat along with copious mockery, so that it becomes highly ranked in search engines where other people you threaten can find it and take heart; and

c) Offer nourishing soup and sandwiches to your models
Ultimately, we question whether this ploy will succeed. The soup and sandwiches can always be Photoshopped out. ®