Giant megaships to suck 'stranded' Aussie gas fields
Biggest vessels ever to feed world's BBQs, patio heaters
---
Energy globocorp Royal Dutch Shell has announced plans to deploy a fleet of monster processing ships - the biggest ever constructed - to exploit so-called "stranded" gas fields, ones which can't be harvested economically by conventional means.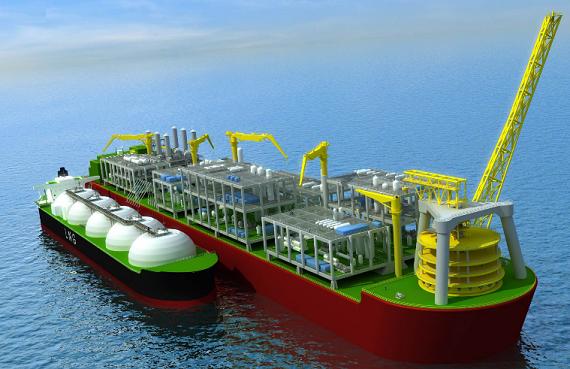 In an announcement yesterday, Shell said that the first targets for its proposed Floating Liquid Natural Gas (FLNG) mega-ships will be the Prelude and Concerto gas fields in the Browse Basin off the northwestern coast of Australia. Normally these fields would need long undersea pipelines to the shore, and then the building of massive processing plants at the small, remote pearling port of Broome (permanent population 14,000). Finally a terminal for LNG tankers would have to be built - and all these expensive facilities would be written off once the gas played out.
But Shell's plan now is instead to build an enormous FLNG floating processing plant, a massive 600,000 ton ship which would moor above the wellheads out at sea and turn their gas into LNG, LPG and other products. Tankers will tie up alongside the monster FLNG ship to take on their cargoes, which can then be hauled out to customers worldwide.
The enormous 480m long ships will be so massive, according to Shell, that they'll be able to shrug off even the most devastating typhoons and remain on station sucking gas. And once the fields are played out, the equipment doesn't have to be abandoned - rather the FLNG megavessel can move on to another "stranded" gas field somewhere else.
Shell has an agreement in place with Samsung Heavy Industries and Technip of France for the construction of the FLNG superships, which would by most measures be the largest ever built. The Knock Nevis Ultra Large Crude Carrier supertanker (aka Seawise Giant, Happy Giant and Jahre Viking) - nowadays used as a moored storage tank in the Gulf - comes in at 460m and 565,000 deadweight tons. The French Batillus-class tankers, now all scrapped, were slightly smaller by both measures but a trifle bigger by the alternative gross tonnage method.
At 480m and 600 kilotons deadweight, the FLNGs when built will surely be the new record-holder. They will easily dwarf such flyweights as US Navy nuclear supercarriers, in the 100 kilotons range. Shell do caution, however, that the "final investment decision" on the Prelude and Concerto fields has not yet been taken, so the timetable on the ships isn't yet set.
But Japanese and Australian firms are also eyeing similar plans for exploiting "stranded gas". With gas more and more in demand - LNG burns cleanly compared to other fuels, and liquid gases can be used in diesel engines, patio heaters, combined-heat-and-power plants etc as well as cooking, heating and industry - it appears that if Shell doesn't build its mobile gas plant megaships, someone else probably will. ®