Recycling your old mobile phone, compact camera, MP3 player or even external storage device could soon become much easier - and more rewarding - following the installation of a gadget-recycling ATM in North America.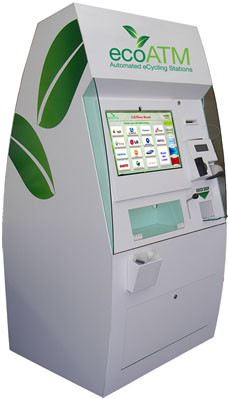 Eco ATM: makes recycling gadgets rewarding
Eco ATM spits out usable credit for local shops in return for your unwanted tech.
The first Eco ATM was installed in a furniture store in Nebraska late last month and, although it currently only accepts mobile phones, the firm behind the unit said the ATM can also support a wider variety of gadgets.
Users simply place their gadget into a slot on the ATM's front, after which cameras are used to analyse the device's condition, searching for body cracks, dings and the like, in order to determine its value.
Although Eco ATM won't spurt out cash for your old phone, it will offer you money off something in the store it's installed in or let you choose from an array of gift cards.
And if your gadget's not worth anything, the machine will still recycle it on your behalf.
More Eco ATMs are planned for stores in San Diego, Boston, Dallas and Seattle. Plans haven't been announced to install Eco ATMs in the UK. ®